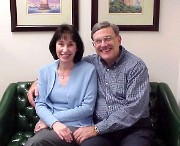 Welcome to Diamond Source of Virginia, a family owned business. We are Anne and Denny Reinke, owners of the company. Diamond Source of Virginia was created in Richmond, Virginia in 1989 and has grown to be one of the country's leading sources of loose diamonds and diamond rings for shoppers who want high quality and low price diamonds. Anne is the President of the company and has been selling diamonds for over 20 years. She works closely with diamond cutters and wholesalers nationwide to ensure our clients get the best diamonds possible. Denny uses his engineering and business experience to keep overhead costs and client prices low while maintaining high levels of customer service.

The diamond consultants at Diamond Source of Virginia have a passion for helping clients. With extensive diamond training and years of experience in finding the best diamonds for clients, you will find a helpful voice when you call for assistance. We answer emails quickly and treat every diamond search as if we were doing it for our best friend. Since we do not own inventory, we are able to provide honest unbiased advice. Our team takes pride in providing beautiful diamonds, personalized customer service and very low prices every day. Our client tell their friends and family which results in over half of our business being referrals or repeat buyers.
Our business philosophy is simple, we treat our employees, clients and suppliers like family. We work hard every day and with every client to find the best diamond possible and to have the buying experience be simple, safe and enjoyable.
Online Marketing Brochure

Our business is located in Richmond, Virginia but has thousands of clients nationwide who have discovered us as a source of high quality diamonds, exceptional value and friendly, honest customer service. Hundreds of diamond shoppers visit this website daily to learn more about how to buy diamonds and why we are the risk free way to buy diamonds. We believe Virginia Is For Lovers and try to do our part provide help our clients show their gift of love no matter where they are coast to coast.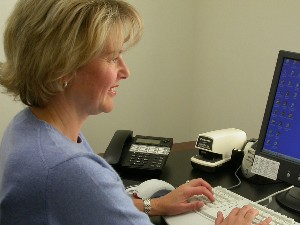 This website is intended to be a source of education and guidance for clients seeking to find the best diamond in what sometimes can be a confusing diamond market. We do not think clients should be forced to pick a diamond of an inventory list. Rather, we feel every client deserves a personalized search of the entire wholesale market using our diamond expertise to recommend the best diamonds and best values.
Please take advantage of the information on our website but do not overlook the no-obligation diamond assistance that is just a phone call away at 888-477-8385.
Bricks and Mortar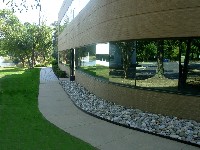 While many of our clients find us online, the growth of our business is powered by client referrals. Happy clients tell their friends where to find us. Often clients within driving distance of Richmond come to our office to examine the diamonds. We schedule appointments to inspect the diamond so we are able to provide the time and attention our clients deserve. We have private viewing rooms with the necessary equipment and expertise to carefully inspect the diamond and answer any questions.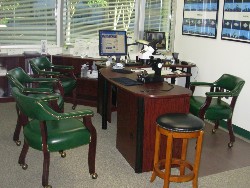 We have private viewing rooms with microscopes, diamond carat weight scales, fluorescence lights, master stones for color grading, and the other equipment necessary so you can thoroughly examine your diamond. While most online diamond business do not allow you to come to their office, we encourage clients to meet with us to examine their diamond.

Most of our clients are out of state or have busy schedules that do not permit a visit to our offices in Richmond. We ship diamonds nationwide to our clients so they can examine them prior to purchase. Of course we carefully inspect the diamond first and discuss it with them before shipping because we want to ensure we find the best diamond that matches our client's shopping requirements.
Check Us Out
We are members of the Richmond Better Business Bureau and the Better Business Bureau Online. You can click on the BBB logo to the right which will take you to the Better Business Bureau site where you can see that we have never had a claim filed against us. Over half our clients are referrals from other satisfied clients so it makes good business sense for us to never have a complaint and to only have happy clients.
Chamber of Commerce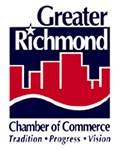 We are members of the Greater Richmond Chamber of Commerce and proud to be part of the Richmond business community. While we specialize in selling engagement diamonds nationwide, we have a loyal and growing client base in the Richmond metropolitan area. Clients within driving distance of our office find they have the convenience of shopping in person and the advantages of getting the best quality and very low prices from our business.
Ask Our Clients
Let us know if you would like to contact some of our clients in your area. We have clients in every state of the country and many have volunteered to be contacted by email. We know that buying such an important item from someone you found on the internet can be a scary decision so we will provide you some names and email addresses of clients in your area so you can ask them about their buying experience with us.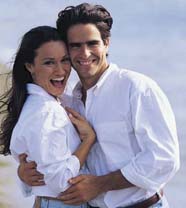 You can also check out the written client testimonials located on our Testimonials web page. We work hard to provide the best customer service, quality diamonds and low prices for every client. Just as importantly, we treat our clients as good friends because we value the long term relationships. That means we will tell the truth, even if it means not making a sale. That means we will do what we say we will do because that is what friends do for their friends. That also means we will provide professional advice as to how to select the best diamond for you. Of course you make the final decision on what diamond is the best one for you. Why not take advantage of our years of experience at finding beautiful diamonds at great prices?
Map and Directions To Our Offices
Diamond Source of Virginia
4301 Dominion Blvd Suite 120
Glen Allen, VA 23060