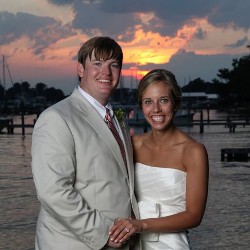 Most shoppers are uncomfortable when they start the diamond shopping process. This is especially true of diamond retailers they find online. We hope the following comments and stories from our clients will help alieve some of the fear. Remember, they were apprehensive too but found Diamond Source of Virginia to be the safe, easy source of their diamonds.
Linda A – Ashland, VA
When my diamond ring was lost I used the Insurance money to purchase a new one..Diamond Source was unbelievaly helpful and as I was VERY particular as to the quality, shape and color diamond that I wanted, they were fabulous and found the PERFECT stone. I wanted a Pear shape but without the bow tie (dark spot)in the middle, and after careful research they found it.!!! I LOVE my diamond and went back to them to reset it and its absolutly fabulous. I constanly get compliments on it..And my daughter already has her eye on it !!! Thank you so much….. I would recomend them for ANY diamond needs.
Dan M – Hagerstown, MD
I wanted to thank you for the wonderful experience I had recently while purchasing a diamond. There is so much more to diamonds than the four C's, and you helped me make an informed decision that I would not have felt comfortable making with the several other dealers I spoke to. Thank you for quickly and thoroughly answering all of my questions surrounding the diamond buying experience. I would highly recommend that ANYone looking to purchase a diamond review your website and all the wealth of information in contains, then talk to you about finding the perfect diamond. Any fears I had about buying a diamond from an online store were quickly erased once I spoke with you. Thanks again, from start to finish, it was a wonderful experience!
Jerry B – Cannelton, IN
I bought my diamond from Diamond Source about twelve years ago. Denny had it mounted in a beautiful platinum ring, and it shines still today! I guess it was a good ring: my wife is still delighted with it, and she is still hanging around the house. I don't even remember the prices, but I do remember the helpful services and honesty of Diamond Source. I highly recommend this company, and hope they continue to succeed.
Chris W – Richmond, VA
I just had to quickly e-mail you and let you know how happy Page and I are with the diamond we purchased from you. Her friends have been raving about it… and I caught her mom incessantly staring at the ring after the X-mass holiday.
She even had a "ring viewing" party back in Atlanta with a bunch of her girlfriends, a few that are engaged as well, and Page said she felt embarrassed and uncomfortable comparing her ring to the others because it was obvious to all that hers was of a fine quality and theirs weren't.
Page even admitted how "relieved" she was knowing that she got a great diamond, with a good history, from a reputable retailer like the Diamond Source of Virginia. She indicated that she now realized she would have felt uncomfortable showing off the diamond (2.5 carat) that she knew nothing about and always wondering whether she made the right decision. Now… she's just tickled to death!!!
Thanks again!!
Glenn S – West Chicago, IL
Thank you so much for your honesty, integrity, servant's heart, superior service, competitive pricing, and ability to find the PERFECT diamond for an incredible wife. You made the stressful job of finding a diamond into a very joyful experience. I was so impressed with how you solved every problem. I learned so much from you in how you conducted your business. I will continue to spread your name to my friends. Thanks again.
Margaret M – Calgary, Alberta
My husband and I are thrilled to pieces with the quality and sparkle of the 1.03 ct. diamond. Our sincere thanks to you, Anne and Angela for all the information and assistance given in sourcing, mounting and mailing to us the diamond with baguettes ring. We are so fortunate to have found such a professionally dedicated company offering excellent and honest customer service and we will definitely be referring Diamond Source of Virginia to our friends and family. With both of us leading such busy lifestyles your service was invaluable to us.
Carolyn and Tony P – Bradenton, FL
All I can say is WOW!!! You told me that I would know within 30 seconds if I liked the diamond. I doubt that it took that long. It was truly everything that you said it was and everything I had asked for and hoped for. And everything fell into place so beautifully. I got the diamond on Tuesday, had it appraised on Wednesday(while I waited and observed) and on Thursday morning, the jeweler was able to have it mounted in the existing ring that I had and wanted to have it set in.
THANK YOU so much for all your wonderful and professional service. It was such a delight working with you. I knew from the first contact it would be a pleasure to work with you as you were not pushy and you lived up to everything you said.
I have already told several people about you and your company. I am hoping when they are diamond shopping they will contact you. I am certain we will be a customer again.
I thought the diamond was gorgeous unset, but when the jeweler finished setting it, cleaned my ring and brought it out to me, it was "knock your socks off" gorgeous. Needless to say, my husband is quite pleased too. I waited a long time to get this diamond, but it was worth the wait.
Douglas D – Houston, TX
I will look for opportunities to provide referrals to your website. It is (by far) the best site that I came across for educating myself on the diamond buying process. The stone is being set in the ring today, so I should have a very happy significant other by the end of the weekend. Again, I appreciate the professionalism and honesty with which you approach your trade.
I need to send you a second "thank you". I put the ring on Leigh Ann's finger this past Friday, and she is thrilled with the diamond. It looks absolutely spectacular on her hand. It is also receiving rave reviews as she is showing it around. Most of her friends are having a hard time believing that a lunkhead like me managed to pick it out on my own. I have also had the opportunity to describe how I went about buying it numerous times over the past few days, and I am hoping that this leads to a referral for you somewhere down the road. You deserve it!
Robert F – Swedesboro, NJ
I'd like to thank you for your help and consideration through out the process of finding the "perfect" diamond for me. Although skeptical at first, my reservations were quickly calmed by your knowledge and help in understanding what I was truly looking for. Even with the challenge of the upcoming holidays you were able to put the package together as promised "on time". Being in the service industry, I understand the obstacles in when dealing with support vendors.
My future wife was beside herself when presented with the ring. Of course the answer was a resounding YES. The ring is truly beautiful. The platinum trellis mount made all the difference with a diamond that size.
I hope that you enjoy continued success. Surely with service and quality such as yours, you will.
Edward M – Los Angeles, CA
I hope you know how fortunate your company is to have Angela working for you. Angela is the epitome of customer service. I felt completely at ease buying from her. She was extremely courteous and knowledgeable. Angela is a true asset to your company. Everything she told me over the phone about the diamonds was spot-on accurate, which only enforced the fact that I was dealing with a reputable company. Your web site is also a wealth of information, I learned quite a bit about buying diamonds. I took the information Angela e-mailed me to a few local jewelers and they would not match your price. I must say that I'm extremely satisfied with the whole process of purchasing earrings with the Diamond Source of Virginia. Again, Angela was super. Oh, and my wife, LOVES HER NEW EARRINGS.
Angie P – Halifax, VA
I am sorry for not getting back to you sooner. I have been in and out of the country for the last month. First of all my husband and I would like to thank you for finding my gorgeous diamond. The clarity and color for this 3 ct stone was great value for the price we paid. I was apprehensive in purchasing a diamond on the internet, but your professionalism, education and honesty assured me that it would be alright. When the appraiser saw it, he told me it was a magnificent stone. I was so glad I found you. I already referred you to my friends and to all the people who tell me how beautiful my stone is.
Robert J – New York, NY
I wanted to thank you for recently helping a friend with his purchase. I'm glad he was able to work with you after I suggested it, he having seen several jewelers prior and was unable to find the right match. I'm glad you were able to work together and I'm always eager to provide you with any business that I can since I had such a wonderful experience with you. Incidentally, my fiancée loved the ring and was near shocked at how well everything worked – which certainly doesn't say much for her faith in me – but it was a simply stunning stone which wows all who see it. I look forward to doing business with you in the future. Take care and thank you again.
Matthew W – Glen Allen, VA
Hi Denny, I wanted to let you know I have found a setting I really like and am going to go ahead and use that. I expect to have the ring complete in 3-4 weeks. I want to thank you for all your help in this process and to let you know I have already recommended you to a friend of mine who is going to be getting engaged in the next few months. Thanks again for everything and look forward to talking to you soon.
Chris and Heather C – Los Angeles, CA
Heather was absolutely THRILLED with the ring! It looks so beautiful and she's continually commented on how beautiful and sparkly the stones look. I have to admit, the brilliance is so amazing it continually draws my eye. We were even walking our puppy, Baxter, around the lake at night and it still glimmered like it had its own spotlight! Again, I can't thank you enough for all your help.
Gregory M – Annapolis, MD
Thank you for the wonderful service and the fabulous diamond. I proposed this past Saturday and she was blown away. The quality of the diamond and the service you provided was excellent. I've already told several people where I bought it and I expect to direct them to you in the near future.
Ingrid G – Makati, Philippines
This is Ingrid, your customer who bought a 1.54 carat cushion cut diamond from Diamond Source of Virginia. Remember how you had the stone sent to San Francisco when I went there for my vacation from the Philippines?. I have promoted your website on our wedding magazine. The national magazine is called Metro Weddings, and is distributed throughout the Philippines) I was made associate editor a few months ago and had recommended your website (for affordable diamonds) in my article about cool internet sites for those who plan to get married. I hope some people will get the chance to purchase diamonds from you! Cheers and hope all is well!
Kevin L – Dublin, Ireland
We received the diamond on Friday, and it is a beautiful stone, we are both very happy with it. I would like to thank you and the other people I've dealt with over the last number of weeks. Thanks
Joseph C – Bethesda, MD
Hey Denny and the rest of you, THANK YOU SO MUCH! You guys were the best, and will be receiving phone calls of friends of mine for some time to come! The diamond is exactly what I was looking for, and the appraiser, Martin Fuller, was blown away by what a great stone it was But he was even more blown away by what I paid for it!
Yung and Katrina W – Toronto, Ontario
Thank you for your help in helping Katrina and I to find such a stunning diamond. Katrina is ecstatic, and that means that I am as well. We will absolutely be very pleased to recommend your services to all of our other friends and contacts. In fact, we have already started that process last night over dinner, with friends who we believe are great together, and who might be in the right zone over the next 12 months.
Rich A – Salem, OR
Recently I decided to purchase a diamond to have put into a engagement ring for my long time girl friend. I shopped locally to get an idea of what I was looking for in color, size and clarity. The prices at the local jewelry stores lead me to the internet to look for a better deal. I could not find what I wanted for what I could afford to pay. I talked to a few online diamond wholesalers before I ended up talking to Diamonds of Virginia. I thought Denny was real informative in helping me make the right choice. He spent some time on the phone going over what was important and what was not. There is no since paying for something that is not needed. As a construction estimator I deal with price/value all the time so I appreciated the information. Denny emailed me information on a number of diamonds that were currently available in the size, color and clarity that I had in mind. I choose one that was in my budget under $4,000.00. A GIA certified princess cut, 1.11 carrot with "I" color and in a VS2 clarity. Denny was concerned that the "I" color I had chosen might possibly be too yellow to set in a white gold setting. He ordered in the diamond from a supplier to check it out and approve before sending it to me. This stone ended up being closer in color to an "H" than to "J" so color was not an issue. Once it was approved by them he emailed me with the results and I gave them the approval to send it. I called and gave them my credit card information for a deposit and it was shipped Federal Express overnight to me for approval. The diamond looked great to me but I am no expert so I took it to a couple of different local jewelers to get there opinion. One weighed it and took a quick look to see if it was as represented. It was. The other jeweler was one I went to High School with so I knew him and trusted that he would give me an honest opinion. He pulled out an un-graded 1.16K, SI, F to compare it too. It compared well in size and color. I personally could not tell the difference between the two and either could the jeweler with the naked eye. The price tag on the local jeweler's diamond showed $5700.00. The jeweler said he could not find anything bad to say about my stone. The one flaw of the stone was an extra facet that would be hidden under the setting prong so it was not an issue. He offered me his stone for the same price but I declined since the Diamond of Virginia stone was GIA certified which was important to me since I was going to insure it. I called Diamond of Virginia to let them know I was going to take it. I picked out a white gold setting from my local jeweler and had them do the setting. It came out beautiful. The ring was appraised at $7900 for replacement cost. My total investment for diamond, ring and setting was approximately $4400. I am totally satisfied with Diamonds of Virginia and the diamond I ended up purchasing. I would use them in the future and would recommend them to others.
David W – Newark, OH
I received the ring this morning. It is lovely! I want to say "thanks" for your help. If you ever want to use me as a reference, please do. I did check the references you sent to me and they were very good.
Ricardo C – Mexico
I never go the chance to thank you again. The diamond was gorgeous just like you said! My girlfriend loved it and everybody else who has seen the stone. I mounted the diamond with no problem and now I am engaged to a very beautiful women. It was great doing business with you and I hope I have a chance to buy another one from you, maybe the earrings!
Jeff M – Richmond, VA
If you can find a better deal on an individual diamond, please let me know. I searched all over the U.S. and bought and took back several diamonds from several stores. Denny's company provided the best quality, service, and price. Once you know what kind of diamond you are looking for, Denny will provide you with a list of possible diamonds along with certificates. If you see one you like, he will order it for you, inspect it, and show you everything you need with up-to-date equipment. If you like the diamond, you can buy it, if not; you can simply have him return it for no charge. Because he has low overhead, your final price is below the Rapaport wholesale price and is way below other retail!!
Joseph M – Evans, GA
Thanks for everything Anne. You are on my list of companies to recommend and I have put the word out that if anyone needs a diamond, they have to check you out first.
Wendy W – Indianapolis, IN
Thank you so much, Anne for all of your help. You and your staff made this so easy and really put my mind at ease about buying a diamond from a company I had found on the internet. I have had two very reputable jewelers in Indianapolis look at the diamond and they both said that I got exactly what I asked for and that the diamond met the description you had sent to a "T". I am so happy with this purchase and just cannot thank you enough for your help and willingness to work with me. I have and will continue to tell people about your company. In fact, I have a friend who has even decided to give you a call this summer as he is planning on looking for a diamond for his girlfriend. Hopefully I will be able to send more business your way.
Ching and Brian C – Hercules, CA
Thank you very much for all your help. I really enjoyed working with you and the rest of your staff. The whole experience of making a big purchase through the internet was very stressful, but you made it easy and comfortable especially for Brian, if you know what I mean! The appraiser we went to was very impressed of the stone. He said exactly what you told me over the phone when I spoke to you that morning after you looked at it. I have also found my setting and am enjoying every minute that I have it on my fingers. It looks like dazzling lights! Thank you also for the quick follow-ups! You did exactly what you said you were going to do. I will definitely recommend you to anybody. Please use my reference anytime!
Richard and Ann M – King George, VA
Just received your newsletter and always enjoy reading them. Since we are up to our butts in snow today, I thought I would drop you a note. Ann gets a lot of enjoyment and comments on her 3 carat modified octagon brilliant diamond. We did enjoy the whole process of buying the diamond through the two of you. We appreciated you taking the time to show us everything about the diamond.
Tammy G – Richmond, VA
Thanks so much. We absolutely love the ring and the diamonds and will recommend your services to many others. We will always come back to you for future diamond purchases!
Marty and Sharon Y – San Diego, CA
Thanks. It did take a bit of convincing and trusting, but I was very pleased with everything. Sharon still can't believe that we got a nicer diamond online than we found in San Diego and it was such an easy transaction. I picked it up in the platinum setting yesterday and as Sharon said, it seemed to even sparkle in the dark. She can't wait to walk into the local high end jewelry store and see her diamond sparkle like theirs. I will certainly recommend you to any of my friends.
Paul and Nicole B – Richmond, VA
I just wanted to let you guys know how much I appreciated ALL of your help with my diamond purchase. The time you spent showing me all the characteristics of the stone really cemented my buying from you. The ring that your setter made us was great and my fiancée has been delighted! I really owe you for getting the temporary setting in time for the engagement party. That helped tremendously with Nicole's sanity. Lastly the appraisal for the ring was almost $1800 more than what I paid, and on a resident's pay that is significant! Thank you very much for all your help.
Paul F – Lexington, KY
We watched the sun set over the Smoky Mountains sitting on a big rock. I then pulled out a book I had illustrated and written. It was a story of how we met and how God brought us together. At the end of the story, which was really funny I might add was the ring. It was beautiful, she loved it! Thanks so much again for everything. I couldn't have done it without you guys! We have got nothing but compliments on the ring. "You did a great job Paul!" is all I have heard. I will send you a picture soon. Thanks and God bless you for giving us such great service.
Scott G – Austin, TX
My buying experience with the good folks at Diamond Source of Virginia has been nothing short of wonderful. Buying a diamond can be stressful because unless you trust the person you are dealing with, it is very difficult to know exactly what you are buying. I have purchased two diamonds now from Denny and Anne and I trust them 100% in providing me with the quality of diamond I am looking for. With each purchase we talked on the phone about what I was looking for in terms of shape, clarity, color and size. They then searched their supplier base and came back to me with diamonds only meeting my criteria. It really made the buying experience simple because they helped educate me so that I was more knowledgeable about what I wanted. With that knowledge I felt more comfortable about my purchase. Denny and Anne's expertise and strong desire to satisfy me as the client makes their business the only source I go to when I am in the market for diamonds and fine jewelry.
David M – Huntington, WV
I will tell everyone about Diamond Source of VA. I did find someone to mount the diamond and do an insurance appraisal on the diamond and the ring. This was one of the most enjoyable experiences of a major purchase. Thanks for everything.
Kim and Scott S – Sterling, VA
The ring is safely on my finger and we couldn't be happier. It really is unbelievably beautiful. Thank you so much for your hard work in helping us get exactly what we wanted. It really is the ring of my dreams! We will send anyone we know who is purchasing a diamond to you.
Shirley W – Tinley Park, IL
My husband and I were looking at 10th Anniversary stones at our local Jeweler that we have been purchasing from for over 10 years. We then went on the internet to compare prices and found Diamond Source of Virginia. We then requested for them to send us a 2 1/2 round center stone for our 10th Anniversary band. It was around $5,000 lower priced than our jeweler. We brought it to him and he couldn't believe the price and quality. Needless to say he said "Buy it. You are getting a fabulous deal that I can't match". We couldn't believe it either. My husband then had it mounted with two 1/2 carat pears on the side of the center stone and another 1/2 carat round chips on the side of the setting. It is absolutely gorgeous and we LOVE Diamond Source of Virginia. We tell all our friends about them. What great people, fabulous service, and honesty!
Todd A – St Petersburg, FL
I received the ring last week and was speechless. It is very impressive!! I want to thank you all for your continued help in this process. I couldn't be happier. But, it's really not about me now is it. I'll let you know what Leigh thinks when I propose hopefully at the end of this month or next. You can count on referred business. Actually, I just referred a gentleman to you this morning from Orlando. He'll be in touch soon!
Aaron R – La Grange, GA
I would just like to say that Diamond source of Virginia are by far some of the nicest, patient and know legible people in the industry. They worked with me for a very long time to get me the perfect diamond for my future wife. The timeliness of the diamond arriving was great, all the information I needed to return, not that I would have, was included, and the diamond was everything they said it would be and made my fiancé very, very happy. I have no problems recommending them to anyone as I did to my best friends and co-workers. I look forward to dealing with Dsourceva.com in the future.
Rick C – Cedar Park, TX
I wanted to say a great big thank you!!! The package arrived and i was excited to see it. I was very impressed with the diamond. Even more so, I'm very impressed with your customer service. I'll gladly recommend you to family and friends. Sherri got her ring Friday evening and I think she is still in shock this morning. I'll be adding a link from my website to your website soon, along with my personal recommendation. Again, thank you!
Penny W – Emporia, VA
I apologize for sending this e-mail so late but I must tell you that John was THRILLED with my new ring. Your idea of taking my wrap and making diamond earrings for my daughter and I was fantastic. Now I can enjoy all my diamonds. We gave my daughter her earrings last week and they look beautiful on her. The fact that they were the diamonds that John and gave me for our 5th Wedding Anniversary and now we gave to her makes them much more special than if we just brought her a pair. Again thank you for your patience while working with me. I could not be happier about my experience with your store. I am already recommending you to my friends! And knowing my husband, we will be visiting you again. Again thank you, Penny
Rob S – Virginia Beach, VA
To you good folks at Diamond Source, I just wanted to take the time to send some feedback…
Kristin and I are very impressed with every aspect of our purchase from your company. Your attentiveness to our time-frame was especially surprising. I found your website while trying to educate myself more on the "ideal" cuts and ratios for the radiant diamond that we were looking for, and thanks to the extensive content on your site, I found the information that I was looking for and ultimately found myself doing business with you.
Denny, you and your family's sincerity and enthusiasm were a pleasure to both of us. I would recommend your services to anyone that I know in the market for a diamond. Thank you for a great experience which, to us, only adds to the excitement that we have in being able to purchase such a beautiful diamond.
Thank you, Rob and Kristin
David M – New York, NY
As a consumer, customer service is possibly the most important thing to me. Even if a business is unable to help me, if I feel I've been treated right, I'll keep checking back with that company. The proper customer service can make me just want to buy a product from a company. If you really are concerned with my feelings on this issue, let me assure you that the attention you gave me was above my high standards. I really do feel as if I was treated right, plus you were able to help me. Buying my modest first diamond was an enjoyable experience and I feel I know the best place to go the next time a similar occasion arises.
Eric M – Melrose, MA
I highly recommend Diamond Source of Virginia. Actually I wish they sold more than just diamonds, because I would buy everything from them. Obviously this is a large, important purchase and you want to make sure you are getting good quality at a fair price. I did quite a bit of research on the internet regarding what to look for in a diamond, so I knew what to ask for. Denny and Anne were very helpful and not pushy or slimy at all. I had them ship me the diamond and I took it to a gemologist. She verified that the stone was exactly what the paper work said it was. Actually the gemologist commented what a nice stone it was and asked where I bought it and what I paid for it. I told her I was visiting a friend in Virginia and he took me to see his Jeweler. She also said she thought the price (the original price Denny quoted) was "very fair". After the appraisal I sent it back to Denny and they had it set, and sent back to me. Denny sent me several options for the setting and it came out very nicely. In fact, my fiancée has had numerous compliments from complete strangers about her ring. Denny also gives you a nice written appraisal, which you can't get unless the stone is set.
Krissy H – Northfield, MN
Thank you for all the time you put into finding us a stone. I know that you were looking for us for about a year, and we are grateful that you did not get frustrated with us. I'm very glad that I stumbled across your web site. We found it very educational and we learned a lot. Any questions that we had you answered right away. It not only made us understand more about the diamond, but it also made us trust you in making such a big decision. If we need any jewelry, I know that you will be our first contact! We also will tell everyone we know about the great quality of stones and service that you provide!
Jeeyoung C – Palatine, IL
Thanks for putting up with me (and also guiding me) throughout the entire purchase process. I had done a lot of research (at least I thought) before I made the final purchase. You differentiated yourself from others, with patience and excellent personal guidance not to mention the best value among others. You will be the first and probably the only one I will be recommending to my associates. It was very a pleasant buying experience that otherwise could have been an agonizing process.
Charles W – Gloucester, VA
I just wanted to take a second and let you know how happy we are with the diamond we purchased. I received the ring with a couple hours to spare. I was thrilled when I saw the diamond and the setting. I thought it was absolutely beautiful. I was even more surprised when it increased in beauty once my Lori put it on and it fits perfectly. The diamond is truly incredible. The setting is perfect simple and utterly elegant. It is perfect for her. I have seen many engagement rings and the response is usually the same, "Oh that's very nice". Lori has had strangers approach her and compliment her. I have yet to see it in the sunlight myself, but Lori said that when she was out the one day this week that it didn't rain, the stone looked like it was on fire. I can't thank you enough. The experience of purchasing the stone was professional and without any stress on my part. Lori could not be happier. I told her about the experience and she is already planning for the next diamond purchase and looking forward to meeting you.