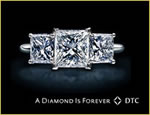 The De Beers' advertising campaign built around the slogan " A Diamond is Forever" has been very successful in dissuading women from selling the diamonds they have received and discouraging them from buying diamonds which other women have owned. The result is that there is very little secondary market for diamonds compared to the huge retail market for "new" diamonds.
There are many reasons why folks need to sell their diamond but all face similar challenges. Selling a diamond is usually an emotional experience so judgment and common sense might be at a low level. Because this is usually a once in a lifetime event and they have little experience or knowledge, most diamond sellers have not idea of how to sell their diamond. There are hundreds of books and thousands of web sites that educate on how to buy diamonds but little guidance on how best to sell diamonds. Hopefully the following discussion will be of assistance to you.
Know Your Diamond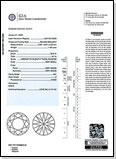 The first step in selling your diamond is to know exactly what you are selling. This is relatively easy if you are selling a certified diamond you recently purchased but is a little more difficult if you have documentation or estimated value.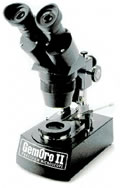 If you do not know the specifics of your diamond, you need to take it to an expert who can evaluate the diamond for you. The greater the potential value of your diamond, the more important this step is. If the value of the diamond is significant, you should have the diamond appraised by an independent appraiser. The term independent implies the appraiser does not buy or sell diamonds.
If you take the diamond to a jeweler, ask them to appraise the diamond and then expect them to make you a offer to buy your diamond, you should not expect to get an accurate appraisal or a fair price offered. First determine what the quality and value of your diamond is and then seek out the best method to sell your diamond.
If you bought your diamond at a retail jewelry store, take a deep breath and be prepared for one of the realities of life. Professional diamond buyers are going to offer you a lot less than you paid for the diamond and probably a whole lot less than the inflated appraisal you have. It is not uncommon for some jewelry store prices to be double the prices at Diamond Source of Virginia so it should not be hard to understand why someone buying diamonds would be offering less than half the price you paid.
Know Your Priorities
Any person selling an item needs to determine what their priorities are for the sale. How important are the following aspects of the sale to you?
Getting the highest dollar possible for the item
Selling the item quickly
Getting paid quickly
Minimizing the hassle and effort
Personal safety in selling an expensive item
Every option for selling a diamond has different combinations of these factors so it is important to know which are most important to you so you can pick the best strategy.
Challenges with Auctions

While online auctions like eBay are very popular for buying and selling jewelry items, unless you do it as a business there are some serious obstacles for selling such an expensive item.
There are thousands of items sold very day so you have to be noticed to attract the right buyer. That means have excellent photography and writing skills to accurately described your item and attract the right buyer.
Handling large dollar transactions and shipping expensive diamonds is different than selling surplus items from your attic.
The auction companies take a significant percentage of the sale as do any third party payment services.
Considerable amount of time is necessary to fully understand the auction terms, conditions and charges.
Jewelry Stores and Pawn Shops

The first thought of most folks needing to sell a diamond is to take it to the closest jewelry store or pawn shop and ask them what they will give them for the diamond. Keep in mind that jewelry store and pawn shop owners are retailers with sources of diamonds from wholesalers. They can buy any type of diamond they want so their only incentive in buying your diamonds is that they can get it at an extremely low price.
These store owners are hoping you are desperate and need the cash so badly you will sell your diamond for a fraction of what they could buy a similar diamond for wholesale.
Some stores will offer to sell your diamond on consignment. We have heard many stories where store show the item for months and then say they have a buyer but at a much lower price than they agreed to originally.
Online Diamond Buyers
There are several companies that advertise online and buy diamonds, watches and jewelry as their primary business. They buy from consumers and then sell to retailers or market the items via online auctions at much higher prices. Companies that advertise heavily online include Bullock and Lippincott.
These online businesses have you first send them a description of the diamond and then require the seller to ship them the diamond so they can inspect it. Once they have the diamond they have more leverage when they offer a lower price but they do need to see the diamond to know what they are really buying.
These companies work well for folks needing to sell their diamonds quickly and little hassle but don't expect to get anything close to what retail or even wholesale value is for your diamond.
Sell Diamond Yourself

Consumers will probably get the most for their diamonds if they can sell it to another consumer. Classified ads in local newspapers work well because they reach potential buyers who maybe do not have access to online suppliers yet are looking for a good deal. Selling through the newspaper runs the risk of dealing with prospective buyers on the phone and in person.
Be sure to think through how to make the exchange of money for the diamond to ensure you don't get left with nothing. There are many conmen who go from city to city buying diamonds from ads in the newspaper and pay with phony certified checks.
A much safer way to sell the diamond yourself is to sell it to a friend or associate. Put a flyer on the bulletin board at work and you might find someone looking for a nice diamond at a reasonable price. They don't have to find the battle of shopping in jewelry stores and you are able to turn your diamond into cash.
Diamond Source of Virginia
A basic premise of our business is that we do not own inventory because we do not want to be biased when we are trying to find our clients the best diamond. As a result, we do not buy diamonds unless we already have them sold to a client.
However, we have had success brokering diamonds for clients who have asked us to sell their diamond on consignment for them. This is especially the case where we sold them the diamond in the first place because they bought a high quality diamond at a very low price. We only broker diamonds that are the quality our new clients are expecting. Sometimes we suggest setting the diamond to the GIA grading laboratory to get a current certification if that will result in a quicker sale and higher price for you.
When we broker a diamond for you, we advertise your diamond in our Special Offers section with an accurate description of the diamond and ring if it is mounted. More importantly, we offer your diamond to every client who is shopping for a diamond with similar specifications and budget. With over a thousand diamond shoppers a day visiting our web site, your diamond can get great exposure and you have none of the hassle or risk.
We have no guarantee when a diamond will sell or even if it will sell because we have no way of knowing what diamonds are clients will be shopping for. Obviously, a one carat round diamond that is in high demand will have a better chance of selling quicker than a three carat marquise which has a lower demand. Likewise, if your diamond is priced noticeably less than similar diamonds, the chances of a quicker sale are increased.
We are in the business of matching diamonds with buyers so know how to handle the money transactions, safely ship diamonds if necessary and minimize the risk for all involved. Since we are also running a business, the money we pay you for your diamond would be less than the buyer paid us but we earn every dollar through the service we provide. This is why more than half of our business is referrals. We sell quality diamonds at very low prices and treat our clients and suppliers as friends, with honesty and integrity.
If you are interested in us selling your diamond for you, give us a call toll free at 888-477-8385.