William Goldberg Diamond Corporation has re-created a classic diamond cut, the Ashoka, based on the famous diamond of the same name. The original Ashoka diamond, a 41.37carat D flawless named after the Buddhist warrior-emperor Ashoka Maurya, was mined in the Golconda region of southern India. Due to its unique cut and exceptional beauty, it has attained legendary status as it has passed through the hands of countless buyers through the years.
The William Goldberg Ashoka is trademarked by William Goldberg Corporation and was patented in 2000.

The William Goldberg Ashoka is a modified version of the antique cushion cut, with a rectangular girdle outline and rounded corners that capture and disperse light to create a strong brilliance.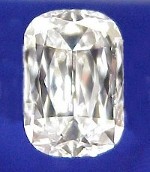 The cut, re-created by Saul Goldberg and William Goldberg's gemologists, displays 62 facets. The rough needed to cut the stones is extra long, and weight loss varies according to the specific piece. The scarcity of extra-long rough on the market today makes it difficult to widely distribute the cut at this time.

There is a lot of interest in the Ashoka cut, although it is limited in production and only available in exclusive Jewelry stores. The Ashoka is seldom available as a loose stone but is available in rings, earrings, bracelets and necklaces designed by designers like Narciso Rodriguez, available from William Goldberg.
William Goldberg has partnered with designer Chopard to create a watch line featuring Ashoka diamonds. The luxury waches will be made in six styles costing from $200,000 up to $1 million. The watches will be available exclusively in Chopard boutiques.
The patented Ashoka diamond cut is no longer available at Diamond Source of Virginia and is only available at exclusive jewelry stores with special marketing agreements with William Goldberg Corporation.