The International Gemological Institute (IGI) has now developed into the largest independent gem certification and appraisal institute renowned for its quality services, extensive experience and know-how. IGI, the oldest institute of its kind in Antwerp, was set up in 1975 and along with its sister laboratory in New York, is one of the leading gemological institutions in the world. Today, a staff of just 3 has grown to over 250 professionals dedicated to a standard of excellence second to none in Antwerp, New York, Bangkok, Mumbai and Tokyo. Today IGI issues more than 400.000 reports a year.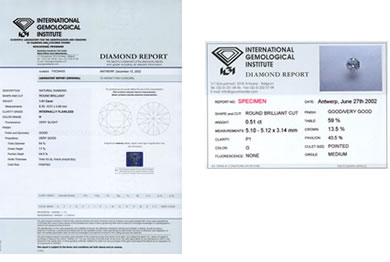 Thousands of jewelers, retail stores, insurance companies, internet sales organizations, catalog companies (mail order), accounting and securities firms and consumers are relying on the IGI reports.
International gemological Information, a division of IGI, was established in New York in 1981, as a source for unbiased appraisals of gems and jewelry. Like its parent company, IGI Information is totally independent of all commercial sales organizations and does not trade in diamonds or precious stones. Thus, IGI Information is able to provide objective and accurate appraisals and identification reports, as well as appraisal updates and estimates in case of damage.
Advice: We seldom see an IGI certified diamond on the wholesale market. They have targeted the retail market and seem to be the predominate certification in retail mall jewelry stores and large chains. We consider IGI on the same level as paperwork prepared by the jewelry store in that they have a reputation of being very generous in favor of the jewelry store. When making an important diamond purchase, why take the risk of not going with the GIA certification?