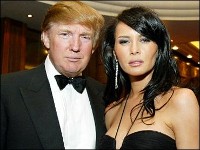 The bride's gown was worth more than most American homes. Her diamond-studded ring cost more than many yachts. Donald Trump married Slovenian model, Melania Knauss January 22, 2005 with all the glamour, glitz and gold that money and star power can buy.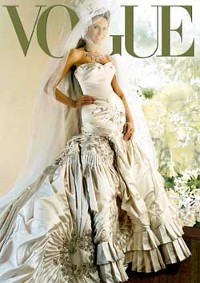 Knauss, posed for a traditional pre-wedding portrait in the gown and her $1.5 million engagement ring, and untraditionally shared it with the world on the cover of Vogue magazine. The Christian Dior original, which reportedly cost $200,000, has 300 feet of satin and a 13-foot train that took 550 hours to embroider. It weighs 50 pounds, so much that the bride will slip into a lighter Vera Wang dress after the couple's first dance.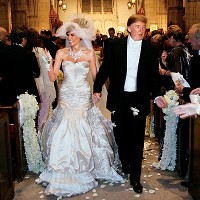 Knauss walked down the aisle to "Ave Maria" and guests broke into applause when the real estate mogul-turned reality TV star kissed the bride. The couple slipped into Trump's Mercedes-Benz Maybach parked near a side entrance after the 30-minute ceremony and drove past hundreds of cheering spectators with the help of a police escort.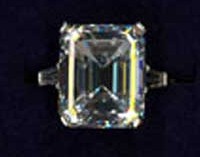 Trump, the billionaire star, chose the natural D flawless diamond from London-based company, Graff, known as "The Lord of the Rings." Lawrence Graff's rings are among the finest in the world, according to the company and as pricey as they are beautiful. Trump, with the help of Graff's vice president Jeffrey Rackover, selected a classic emerald-cut diamond ring, which features tapered diamond baguettes on the side and is set in platinum. Rackover is a long-time friend of Trump's.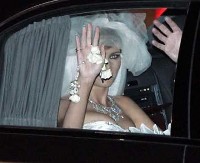 The ring was purchase at a 50% discount in exchange for the publicity the Graff company is getting from the event. "Only a fool would say, 'No, thank you, I want to pay a million dollars more for a diamond,"' said Trump.