When it comes to quality workmanship and artistry, no jewelry designer does it better than Bez Ambar, located in Los Angeles. Bez is the artistic genius leading a team of jewelry designers who produce some of the most beautiful jewelry items in the world.

Bez Ambar's career started with studying painting and sculpture in London. In 1979, Bez applied his artistic talents to diamonds as he led diamond cutters through a long process of trial and error in search of a beautiful square-shaped diamond, resulting in today's Princess cut diamond. He moved to the United States in 1980, founding Ambar Diamonds to market his new diamond shape. Designers were not receptive to the new Princess cut because they did not know how to incorporate the shape in their styles. Bez drew upon his artistic talents and launched his own line of jewelry, trademarked Quadrillion.
Always on the leading edge of the jewelry design business, Bez created a new method of setting spare diamonds side by side in a prong-less, border-less, and flush surface. The process, invisible setting expanded the use of square diamonds. Intrigued by the prong-less and border-less setting style, Bez developed a new setting style named "Boundless" for round diamonds.
In 1999, Bez launched his Pave collection with trend setting designs. Fine-tuning the pave setting process using a microscope, Bez developed the technique and is now considered the premier "micro-pave" setter in the industry.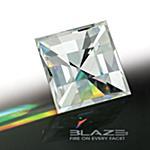 The latest innovation from Bez Ambar is the new Blaze Cut diamond with only 13 main facets that maximize the fire (flashes of vivid colors). The functionality of the square shape and the exceptional fire of the Blaze Cut, provide breathtaking beauty.
The pictures below show some of the beautiful Bez Ambar designer jewelry items we have provide Diamond Source of Virginia clients. Click the pictures or the text to see more photos and descriptions of these beautiful pieces of jewelry.
Click the following jewelry types to go directly to that section below.
Bez Ambar Designer Rings
Bez Ambar Designer Bands
Bez Ambar Diamond Wedding Band: Blaze 0.36 tcw Flush Set Diamonds
Bez Ambar Diamond Wedding Band: Round 0.38 tcw Pave Diamond Band
Bez Ambar Diamond Wedding Band: Quadrillion 1.35 tcw Channel Set Diamond Band
Bez Ambar Diamond Wedding Band: Blaze 1.33 tcw and Sapphire Accents Eternity Diamond Band
Bez Ambar Diamond Wedding Band: Blaze 1.14 tcw Diamond Band
Bez Ambar Designer Pendants
Bez Ambar Designer Bracelets
Bez Ambar Diamond Bracelet: Round 3.90 tcw Five-Row Diamond Bracelet
Bez Ambar Designer Earrings
Round Cut Diamond Earrings: 1.31 tcw Rounds with 0.36 tcw Pave
Round Cut Diamond Earrings: 2.02 tcw Rounds in Flower Shaped Settings
Round Cut Diamond Earrings: 1.62 tcw Round Boundless Set Diamond Hoops