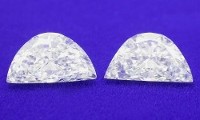 The half moon diamonds are used mainly for side stones and have the profile of half a round or half an oval diamond. They have a straight edge on one side and curved side on the other.
Half moon diamonds look great with rectangular center stones such as princess, radiant or emerald because they have one straight side. Because of the rounded edge, half moon diamonds also work well with oval shaped stones.

With the reemergence of the cushion cut, half moons are now a popular choice for side stones with cushion cut diamond rings.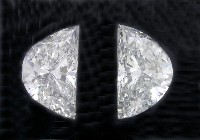 The early diamond cutters shaped half moons diamonds from broken rounds and ovals. The challenge for the diamond cutter was not only cutting the stones to the same proportions but also from finding broken stones with the same color. Today the big demand for half moon shaped diamonds requires that cutters cut large numbers of half moon diamonds in various shapes, colors, and sizes. Then sorters find matched pairs that are kept together to be sold as side stones.

Like most other elongated diamond shapes, the half moon cut diamond can display a bow tie dark shadow if not cut properly. A well cut half moon shaped diamond will show brightness and sparkle from end to end.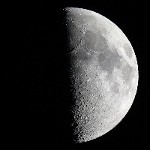 Demilune is another name for diamonds shaped like the half or crescent phase of the moon.
The following photos are only a sampling of diamond ring styles with half moon cut side diamonds. Hundreds of mounting styles look great with half moon cut diamonds so just email us a picture of the style you like and we can get you a price quote. You can also check out our Designer Gallery for pictures of mountings from some of our suppliers.
Click on ring pictures below to see larger photos and learn more about these half moon diamond rings styles.