The 1998 Academy Award winning film Titanic made a serious impact on the minds of movie goers and jewelry shoppers alike. Rose DeWitt Bukater (Kate Winslet) is a 17-year-old, upper-class American suffocating under the rigid confines and expectations of Edwardian society who falls for a free-spirited young steerage passenger named Jack Dawson (Leonardo DiCaprio) who opens her eyes to the world that lies outside her upper social class life.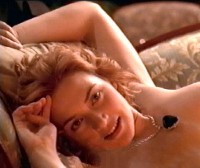 Jack was clearly falling in love with Rose, but Rose was inclined to ignore their growing affection due to her engagement and their different social standings. But eventually she decides to throw caution to the wind and offers her heart to Jack. Rose asks Jack to sketch her wearing nothing but the Heart of the Ocean diamond, the same portrait the treasure hunters will find 84 years later.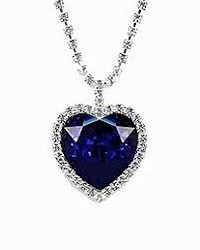 The "Heart of the Ocean" diamond necklace work by Kate Winslet in the movie spawned a demand for imitations of that breathtaking piece of jewelry.
Harry Winston created a $20 million blue diamond necklace inspired by "Heart of the Ocean" that was worn by Gloria Stuart, "Titanic" best supporting actress nominee who played Rose at the end of the movie.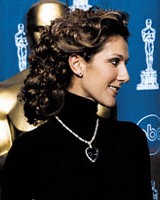 Asprey & Garrard, the jewelers who created the faux "Heart of the Ocean" used in the movie, created a beautiful replica featuring a 170 carat blue sapphire surrounded with 65 diamonds, each 30 carats. The necklace was worn by Celine Dion at the 1998 Oscar ceremony as she sang the haunting "My Heart Will Go On," the theme song from Titanic. The necklace was later sold at a benefit auction for $2.2 million.