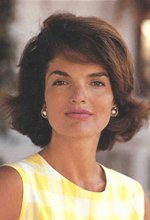 It seems that there is a fascinating story behind most engagement rings and this is also the case when Jacqueline Bouvier was presented a 2.88 carat diamond and emerald engagement ring by Senator John F. Kennedy. Anyone who has studied the Kennedy family history knows that both Jack and Jackie's families had way too much control over their adult children's lives. In this case John Kennedy's father, Joe Sr. even picked out Jackie's engagement ring.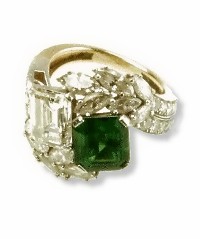 The Van Cleef & Arpels engagement ring John F. Kennedy presented to Jacqueline Bouvier was purchased in the summer of 1953. It consisted of one 2.88 carat diamond mounted next to a 2.84 carat cut emerald with tapered baguettes. In 1962, the ring was reset to include 0.66 total carat weight of round diamonds and 1.46 total carat weight of marquise diamonds.
The most famous of the jewels in Jackie Kennedy Onassis life was also probably the least worn of her jewelry. The beautiful 40 carat marquise Lesotho III diamond was a gift to Jackie from Aristotle Onassis in 1968 when she agreed to marry him. It is believed that she only wore it twice and then it was locked away in a bank vault in New York.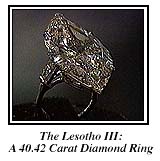 The L-color, VS2, marquise-shaped, 40.42 carat diamond sold for $2.59 million during Sotheby's 1996 auction of Jackie's estate. The stone was estimated to sell between $500,000 and $600,000 but the price quickly ran up to $2.59 million after a frenzied battle between two anonymous bidders at Sotheby's. The diamond was the Lesotho III, one of eighteen gems cut from a 601-carat rough diamond named the Lesotho. It was discovered in 1967 in Lesotho in South Africa. The rough was originally purchased by Harry Winston. It was exhibited at the Smithsonian Institute in Washington, D.C and the Museum of Natural History in New York before being cut into 18 gems.
Some of the other jewels that sold at the Estate of Jacqueline Kennedy Onassis at Sotheby's on April 24, 1996 included:
47-carat Kunzite stone surrounded by 20 round diamonds that was purchased by President Kennedy as a gift for his wife, but never given to her, sold for $431,250. It was valued at $6,000 to $8,000.
A pair of Cabochon ruby and diamond pendant and earclips, a wedding gift from Onassis in 1968, sold for $360,000. They had been valued at $25,000 to $35,000.
17.68 carat ruby ring – $290,000
Cabochon ruby necklace – $247,500
Amethyst necklace – $55,000
Red tourmaline briolette earrings dangling from amethysts – $35,000
Cabochon garnet flower brooch – $145,000
Gerard Darel, a French designer, paid $101,500 for a double-strand black stone necklace that Jackie wore when her husband announced his candidacy for president and on their trip to Paris in 1961. The auction catalog featured a picture of Jackie wearing the necklace and talking with French President Charles de Gaulle. The estimate was $200/300.
A European collector paid $112,500 for two simulated pearl necklaces and a pair of simulated diamond and pearl ear clips (estimated value $300).
An Asian collector paid $85,000 for two other simulated pearl necklaces and two pairs of gilt metal ear clips (estimated value $400).