I write to you now as a man happily engaged to be married! All went very well. I managed to get away to collect the diamond in San Francisco and then carried it around burning a hole in my pocket for a week before the right occasion came along. I couldn't wait to open it and ripped off the packaging in the FedEx office. The assistant behind the counter saw it and exclaimed, "Wow, that's a rock! Some one is going to be really happy with that". You were right in all your advice and what you said about the diamond. It really does sparkle like none I have seen before. In bright sunlight it creates a disco ball effect on nearby objects with myriad pinpoints of light.
I had always planned to ask Sarah to marry me during our stay in Las Vegas which was midway through our holiday and originally thought that the ideal place would be the Grand Canyon. We flew out there in a helicopter and had champagne and crudités on a rocky shelf looking out over the Colorado River. Although this was a wonderful experience it was hot and dusty and there were 3 or 4 other helicopters at the same spot so there was no private moment to propose.
That evening we had a special dinner planned at the Picasso restaurant in the Bellagio Hotel on the Las Vegas strip. The restaurant is gorgeous with several Picasso paintings looking out over you from the walls and the famous dancing fountains outside the window. Having sipped down a steadying cocktail I waited for the right moment. When Sarah joked that she thought, "We were born for this." I saw my opportunity and laughingly agreed but added that I thought we were also born for each other and then got down on bended knee at the table. Initially Sarah looked slightly puzzled and then realization dawned and a look of complete surprise crossed her face. For several seconds she was speechless before managing to squeak out a Yes and becoming uncharacteristically emotional. The ring looked stunning on Sarah's finger and fitted perfectly.
Those around us couldn't help but see what was going on and as tables got up to leave they came by and offered their congratulations. Apparently we made an everlasting memory for a little girl who was there watching everything from the table nearest to ours.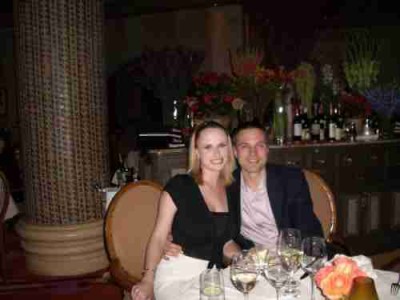 Thank you again for all your help and advice regarding the ring and accommodating my somewhat unusual delivery requirements. Mark T – Southampton, England