We first met for a brief amount of time in April, 2004 at a little ice cream shop in Richmond, Virginia. This first meeting was as a result of contacting each other via Match.com. After pigging out on ice cream, we then decided that we should get to know each other a little better. We decided to have our first substantial date at a small but romantic Greek/Italian restaurant called Trak's. After eating dinner at Trak's, we were both amazed at how easy we got along because we sat in this restaurant for 4+ hours just talking. The time flew by in that restaurant as did the last 10 months.
And now to the good stuff….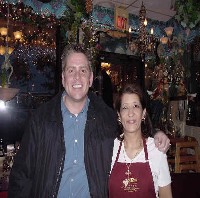 On February 12, 2005, Valarie was of the impression that she and Jeff were going to Trak's for a romantic evening to celebrate Valentines Day. Little did she know that Jeff and the owner of Trak's were planning something huge.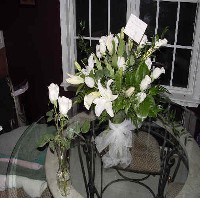 Jeff arrived at Valarie's house at 6:30 pm and surprised her with what she thought was a Valentines gift of flowers. After that, they went to Trak's. When they arrived, the owner greeted them at the front door and led them to the same seat they sat in when they first met. Valarie was very surprised and a little suspicious that the owner knew who they were, but Jeff quickly took care of this suspicion by mentioning that he knew the owner very well and called ahead to reserve that particular seat. Valarie was impressed but still thought this was a Valentines treat. "How romantic this is", she said.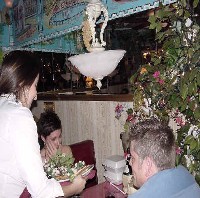 Valarie and Jeff then proceeded to order wine and food and had casual conversation just like any other nice evening that the two were used to. After eating, Jeff then excused himself to the restroom where he then signaled to the owner that it was time to implement the plan. When Jeff returned, the music went from authentic Greek to a little tune that was special to Valarie and Jeff. As soon as the song began, Valarie knew that Jeff must have had the owner play this song and was deeply touched by it. And even though Valarie does not like to show her emotion, she busted out in tears and commented how sweet it was. Her tears then made Jeff tear up and they sat quietly trying to overcome the emotion. Yet, Valarie still had no clue what was coming.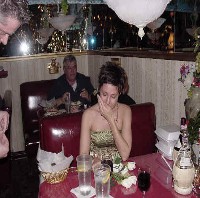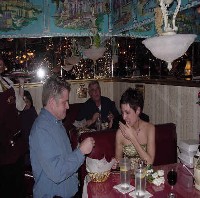 The waitress then walked towards the table where the two teary eyed people sat. The waitress then offered up dessert by displaying the dessert tray. On the tray, were the various desserts along with 3 white roses that were held together at their stems by a diamond ring. Valarie said later that she wondered why there were roses on the tray but didn't think much of it until one of the waiters started snapping pictures. Obviously, the song, the emotion, the camera flashes, and the speed of the event was too much for Valarie to understand at that moment. However, when Jeff got up from his seat and removed the ring from the flowers, Valarie then knew something big was happening.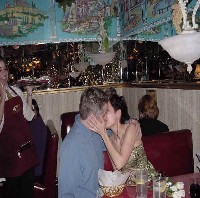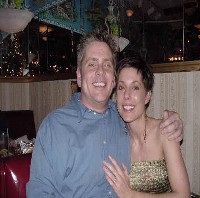 Jeff then went to his knees and rather than recite the long winded speech he had planned, he simply whimpered, "Will you marry me?" Of course, Valarie was not able to say much, she only nodded her head yes and the two kissed as the many people in the restaurant applauded. Jeff then would not let Valarie go until she finally whispered in his ear, "Hey, can I see the ring?"