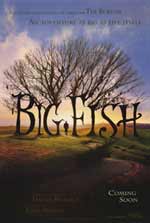 Months of planning finally came together and Heather (my girlfriend for the last year-and-a-half) and I became engaged. I was working on the crew making the movie "Big Fish" staring Ewan McGregor and directed by Tim Burton. For months I'd been planning to propose to Heather during the most romantic scene in our film.
Sandra (Alison Lohman)and Edward (Ewan McGregor) are young and in love in Tim Burton's fable-like drama, "Big Fish," a Columbia Pitures release.
In the scene, Ewan McGregor's character has planted 10,000 daffodils outside the home of his beloved (her favorite flower). I arranged with casting for Heather and I to be extras in the scene (complete with 50's attire and hairstyles). Poor Heather had been waiting for her scene since 5:00am in an uncomfortable corset, bra, shoes, and an itchy dress. Twelve hours later, just before wrap, with the sun setting in the background, Tim Burton and the AD's (Assistant Directors) cleared a small path in the flowers right in front of the camera.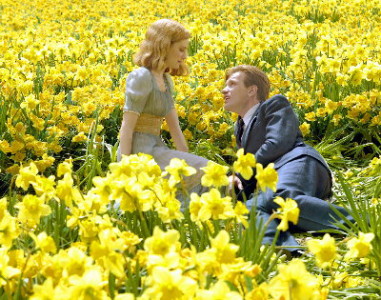 They picked Heather out of the crowd and brought her front and center down the path. She thought other extras were behind her and suddenly the AD's yelled rolling, and Tim yelled "action". Heather started looking around for what she was supposed to be watching, when I snuck in from the side. She turned to see me down on one knee and the look on her face was priceless.
I told her I had been waiting for her all my life and now my life was complete, I love her beyond words, and would she marry me? She was literally stunned with shock, but managed to get out an excited "yes!" The whole crew burst into applause and came up to congratulate us, while the AD's announced to everyone in the background what just happened. Many both on and off the set were moved to tears and the whole thing was very touching.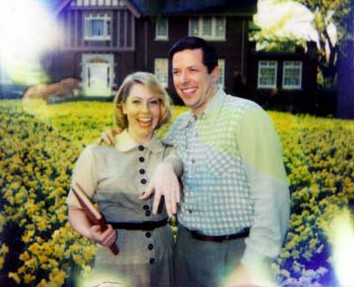 Tim's assistant, Derek, did a wonderful job getting the whole thing on video. They also filmed the "scene" for real and we got a special copy. All in all, the whole thing couldn't have been more magic, or gone better. Heather loves the ring and I was able to breathe a huge sigh of relief!