Friday night, I was at a party at the Canadian Embassy here in Tokyo, being put on by the Canadian Chamber of Commerce, of which I am a committee member. I was chatting with one of the other members about the upcoming holidays and mentioned that I was planning to propose to Yukari when we go to Malaysia on the 20th. I also mentioned that that tomorrow the 7th was our one year anniversary of our first date. My colleague recommended I should do it the night of the 7th, as it would be a big surprise. Another colleague also chimed in and said the same thing. I agreed, but had little time to do any planning.
I stopped by the Cerulean Tower Hotel and made a reservation at the CouCagno French Restaurant located on the 40th Floor with a Window seat for 9 p.m. which was the only time I could get in. I told the staff what I had intended to do and they said they would accommodate me. I then went to the lobby and tried to book a room, but the girl there said the hotel was full. Frustrated, I returned home and got on the net and was able to make a reservation.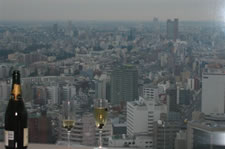 Saturday (7th) afternoon, I got a bottle of Champagne, some nice flowers, Blueberry Cheesecake and checked into the hotel by 5 p.m. After explaining to the Front Desk Manager that a room with twin beds is not what I reserved and that I planned to propose in the hotel, he upgraded me to a Suite on the 35th floor with a big window over looking Tokyo. I really was an impressive view of the city.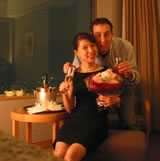 At 18:30, I met Yukari at Shibuya Train Station and we walked over to the hotel. I told her I had a surprise for her and when we got into the Elevator and got out on the Executive Floor and I took her into the room, she was very shocked and surprised with the setting. We then had Champagne and cake and talked for about 2 hours before going upstairs to the French Restaurant.


The evening Manager from Friday welcomed us and the restaurant was half empty as we walked over to a secluded table. We then ordered 2 more glasses of Champagne and some appetizers. The main course was rack of lamb with rosemary and wonderfully delicious.


After finishing dinner, I told her how I felt about her and how the past year had been so great, (in Japanese) then said "Would you marry me" (in Japanese). She said Yes (English) and then broke into tears and expressed her feelings and surprise (in Japanese).
Soon afterwards, all of the restaurant staff come over and congratulated Yukari and I. I'm sure you can imagine what happened next…