Diamond earrings are one of the most popular jewelry items worn today. The wide variety of diamond earring styles, sizes and prices make them a perfect gift for that special occasion because they will be worn and admired every time she wears them.
Diamond Stud Earrings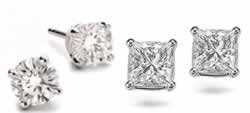 Almost every gals hopes to have diamond stud earrings with at least one carat diamonds at some point in their life. Diamond stud earrings are very practical because they look greater whether she is wearing jeans or an evening dress.
Check out our detailed discussion of diamond earrings studs by clicking here.
Diamond Hoop Earrings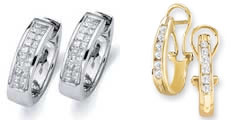 Hinged diamond hoop earrings snaps securely over the ear with no clips or posts. These sparkling rings of the diamonds hug the ear and are usually the most comfortable while using the phone.
In recent years the huggy earrings with diamonds covering the visible surface have become very popular. They are not only comfortable because of the hoop style, but provide a lot of diamond sparkle for the dollar because the diamonds are small.
Diamond Dangles Earrings

Diamond dangle earrings provide exceptional sparkle at the ears since they hand from a single point and thus display the diamond fire with each movement of the head.
Diamond dangle earrings can range from the stately simple to the elaborate elegance of antique works of art. The diamond dangle earrings can be just below the earlobe to the dramatic styles that flow all the way to the shoulders.
Diamond and Gemstone Earrings

The contrast of sparkling white diamonds with the deep color of gemstones add a burst of color to a woman's jewelry wardrobe. The beauty of sapphires, rubies and emeralds are classics for diamond and gemstone earrings.
A variety of color is also available with other gemstones including blue topaz, pink or green tourmaline, citrine and amethyst.
Fastening Techniques
There are several types of diamond earring fastening techniques. For pierced ears there are posts, closed hoops, French ear wires, kidney wires and lever backs. For non-pierced ears there are ear clips and screw-back earrings.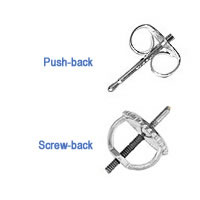 Posts are metal stems that go through the ear and are fastened with some type of nut or closing device.

Closed hoops are posts that go through the ear but are held in place with a hinged spring mechanism like the Omega back.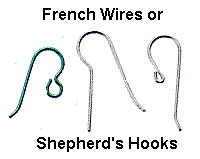 French ear wires (fishhooks or Shepherd's hooks) are bent metal wires that go through the ear. A length of wire hangs behind the ear. French ear wires are used for diamond earrings that hang down from the ear (dangles).
Kidney wires are similar to french ear wires but the end of the wire hooks onto the front of the wire making the diamond earrings more secure.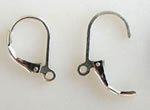 Lever backs are similar to French ear wires and Kidney wires in that they are a loop of wire that goes through the ear but they differ by having a hinged lever that completes the closed loop to hold the earring in place.
Ear clips are hinged earrings that are held on by friction caused by tension from a spring mechanism.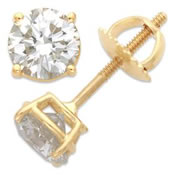 Screw-back earrings are tightened on to the ear with a threaded back but these can strip smooth are are prone to losing the earring.
If you are looking for exceptional diamond earrings that are a cut above those sold at the department stores or mall jewelers, give us a call at Diamond Source of Virginia. We know how to find the most beautify diamond earrings you have every seen and how to get them for you at a fraction of what a jewelry store would charge.