Antique diamond rings are increasing in popularity. The term "antique" encompasses several ears of jewelry including, but not limited to Victorian, Edwardian, Art Nouveau and Art Deco. Some young shoppers are looking for something different than the traditional plain looking rings and like antique diamond rings because they are more ornate and interesting.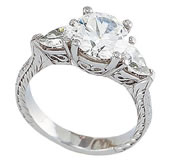 The term "Art Deco" is derived from the Exposition Internationale des Arts Décoratifs et Industriels Modernes, held in Paris in 1925, when the style was in its heyday. For those who love antiques, Art Deco has always been in vogue because it's the most uniquely wonderful old style that's still modern and contemporary.

The timelessness of Art Deco is wholly appropriate to the era in which it flourished. Occupying the years between 1915 to the end of the 1920s, Deco bridged the transition from the old world to the new, when typically handcrafted items that had survived the Industrial Revolution thus far were beginning to be made by factories, Jonas explains. Art Deco rings therefore have a streamlined, geometric, graphic look that is still delicate-a "cool sophistication."

Art Deco rings are frequently distinguishable by metal "steps"-seen in the ring's profile-that lead up to the center stone. Think of the Chrysler Building, and how its tower is shaped in steps toward its highest point. This defining characteristic of Art Deco engagement rings reflects the period's architecture.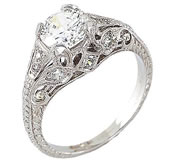 Antique rings often feature a square setting holding a round diamond. Six or more smaller diamonds may flank the center stone, set within various geometric and graphic shapes along the visible part of the ring. Baguettes were introduced during this period as well, and contrasting stones, such as sapphires, emeralds, rubies or onyx, were commonly featured as accents in engagement rings of the era. Platinum, meanwhile, was the metal of choice for antique diamond rings. It has great lightweight strength and tends to have a whiter look than silver, providing a striking juxtaposition to the diamonds or other stones in the rings.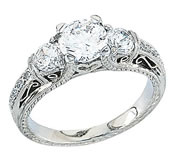 Unlike many modern rings, an antique engagement ring is more than merely a showcase for a highly valuable diamond. However, the cut and quality of the center stone continues to be an important aspect of any engagement ring. Typically, the diamonds in Art Deco engagement rings will contain a Brilliant cut stone, or even an Old European or Old Mine cut stone or Cushion Cut diamond. Most antique engagement rings and settings of the era contain or can hold between 0.50 and 1.5 carats, but exceptions exist at either end of the spectrum.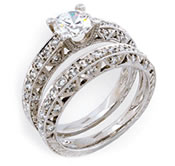 As is the case with any antique, there are only a limited number of the items available, and many of them are not in circulation for a variety of reasons. However the demand for antique style diamond rings has created a large reproduction industry with beautiful styles readily available.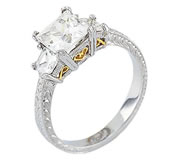 If you are shopping for an authentic antique ring, be sure to get the seller to document the era. For example, if you are looking to a buy Art Deco ring, the receipt should state something like Art Deco, circa 1925. If you are buying a reproduction, make sure the setting is well finished and there are no sharp edges on the ring. In well-made antique style rings the details on the underside of the ring should have been as carefully finished as the visible part of the ring. Like any valuable piece of jewelry you are not sure of, a visit to an independent appraiser can provide peace of mind.
If you are looking for wonderful antique rings, we have several designers who produce gorgeous settings that will accentuate the beautiful diamond you are seeking. Give us a call today and we will help you find the diamond antique ring of your dreams.