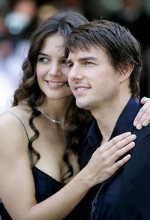 Hollywood is famous for its celebrity romances and there was plenty of publicity for Katie Holmes and Tom Cruise. Their relationship was subject to extensive scrutiny by the press who suspected it was more of a publicity stunt than real love. Both stars had big summer films (Tom's "War of the Worlds" and Katie's "Batman Begins") coming out at the time of their romance so almost everyone thought their frequent public appearances were an orchestrated publicity strategy.
Both Cruise and Holmes had recently ended relationships. Mission Impossible and Top Gun star Cruise had ended a three year relationship with actress Penelope Cruz, who he met on the set of Vanilla Sky. He was married to Australian actress Kidman for more than 10 years. Holmes recently called off her engagement with American Pie actor Chris Kleint after five years together.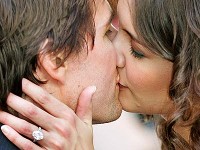 The relationship between Tom and Katie even has its own nickname, "TomKat" which is a play on their names and the plane Tom flew in Top Gun. People started thinking something might be different when Tom declared his love for the "Dawson's Creek" star on "The Oprah Winfrey Show" by jumping euphorically on her sofa. The 42-year-old performed the same antics on a subsequent edition of the Jay Leno show.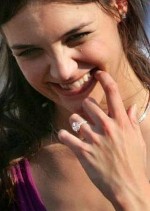 After only dating a little over two months, the Tom Cruise proposed June 17, 2005 at the Eiffel Tower and presented Katie Holmes a Fred Leighton designed oval shaped diamond valued at about $275,000. The Edwardian-style ring features a 5.5 carat oval diamond with over six carats of smaller diamonds outlining the oval and on the split shank mounting. Tom asked Katie to marry him at the end of a candlelight dinner at Le Jules Verne restaurant on the second floor of the Eiffel Towner. Asked why he chose the famed Paris landmark, he replied: "I've never been to the Eiffel Tower. It's Paris, it's a beautiful city, and it's very romantic."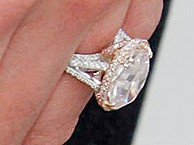 Tom Cruise has reportedly bought his pregnant fiancée Katie Holmes her own $20 million jet as a wedding present. An insider says, "Tom wanted to come up with the most amazing wedding gift ever, something that would make her life so much better than a big diamond on her finger."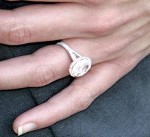 Though many have speculated that Cruise and fiancée Katie Holmes would wed prior to their baby's birth, the actor says the couple has decided to wait until after the child is born. The couple is reportedly planning a wedding for October 21, 2006 but it seems that everything in this relationship comes as a surprise so we will all have to wait and see.