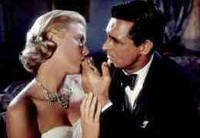 It was the fair tale of the 1050's, an enchanting European Prince and the American movie star. It began in May 1955, when Grace Kelly was in the south of France to attend the Cannes Film Festival and agreed to pose for a "Paris Match" photo layout with His Serene Highness Prince Rainier III of Monaco. They had never met, though Grace had visited the palace during the making of Alfred Hitchcock's "To Catch a Thief" a year earlier. This movie with co-star Cary Grant and the story of diamonds and jewelry in Monaco would ironically mark the future direction of Grace's life.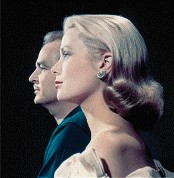 While a photographer recorded the photo shoot, the mustached prince escorted the Philadelphia-bred beauty through the gardens and his small, exotic zoo. However, romantic sparks did not fly because both were preoccupied with events in their lives. It was unlikely the prince and the movie star would ever meet again but fate was not to be denied. Several months later Grace and Rainier had dinner in New York. The spent most of the next several days with each other and then Rainier asked for her hand in marriage. Rainier denied that the proposal was impetuous saying, "I think we were both ready for marriage."
On December 28, Grace started to let the news of their proposal out. He gave her a friendship ring, a band with diamonds and rubies, until the 12-carat emerald cut diamond engagement ring could be made. Grace also received a beautiful jewelry set created especially for her by Van Cleef & Arpels, consisting of a necklace, bracelet and earrings of diamonds and pearls.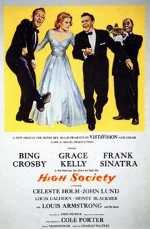 Grace left for Hollywood to start work on her last film, High Society. Her engagement ring made headlines when Grace wore the twelve carat emerald ring in the movie where it got a close-up and a line of dialogue from co-star Bing Crosby, "Some stone…did you mine it yourself?"
Grace still had several years remaining on her MGM contract and most in the movie industry could not believe she would give up her movie career. However, the Prince was not about to have his bride commuting to Hollywood so MGM agreed to let her out of her contract obligation if the studio could have exclusive rights to film the wedding.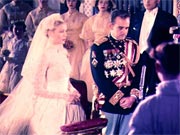 On April 18, 1956, Prince Rainier Grimaldi and Grace Kelly were married in a civil ceremony in the Throne Room of the Palace. A television crew, the only media allowed at the wedding, transmitted the half-hour ceremony to 30 million viewers watching European television. On April 19, diplomats, heads of state, movie stars and socialites including David Niven, Gloria Swanson, Cary Grant, Ava Gardner and Aristotle Onassis were amount the 600 guest at the televised wedding mass in the Cathedral of St. Nicholas. Princess Grace of Monaco wore a wedding gown courtesy of MGM's costume designer Helen Rose. The high-necked, long-sleeved silk wedding gown had a billowing skirt and antique lace.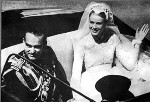 Before entering the cream and black open Rolls-Royce to drive through the streets of Monaco, Grace leaned over to Rainier and whispered something in his ear. Later when asked what she had said to Rainier, Grace recalled having whispered, "Thank you darling, for such a sweet, intimate wedding."