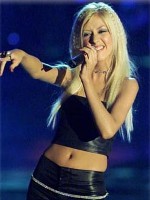 Christina Aguilera's first TV appearance came at 8 years of age on Star Search and by 10 she was invited to sing the Star Spangled Banner at a Pittsburgh Steelers game. Later, as a member of Disney's Mickey Mouse Club Aguilera would appear with future pop stars Justin Timberlake and Britney Spears. Before her twenty-first birthday, Christina Aguilera claimed multiple platinum records, three Grammy Awards, and record sales well over twenty million copies.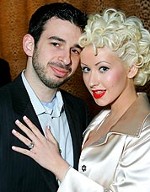 Christina Aguilera was introduced to Jordan Bratman in 2002, one of the higher-ups at the Soundproof music agency by Aguilera's manager, Irving Azoff. Their romance was overshadowed in the press by the verbal battle between Christina Aguilera and Britney Spears. That was to change when Jordan Bratman regained the publicity spotlight in Aguilera's life.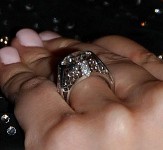 The two were on vacation together, February 11, 2005, when the 26-year-old music executive proposed to the 24-year-old singer. He presented Christina with a 5 carat diamond and platinum engagement ring. It is reported that the engagement ring was originally going to have pink diamonds around a large white diamond but when Jordan realized that color would clash with the pink nail polish Aguilera usually wore. He went to celebrity jeweler Stephen Webster who was creating the ring and begged for him to quickly change the ring's design.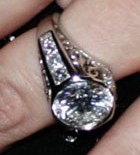 Bratman filled their Carmel, California hotel room with rose petal, red and pink balloons and gift boxes, each containing a present and a poem he had composed. When Aguilera got to the last box, she found the ring. Bratman got down on one knee and said, "Will you do me the honor of being my wife?"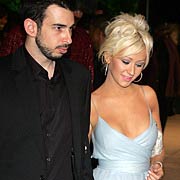 Christina arrived at her wedding ceremony in a white Rolls Royce Phantom. Aguilera and Bratman had a sunset wedding in a tent near a forest on November 19, 2005 at Staglin Family Vineyard in northern California's Napa Valley. The ceremony with about 130 guests was described as being lavish. Guests included Sharon Stone, Cameron Diaz and Drew Barrymore.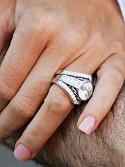 People magazine reported that the singer wore a Christian Lacroix gown while her bridesmaids wore dresses designed by Kai Milla, who is married to R-and-B legend Stevie Wonder. The wedding fete reportedly began Thursday and included a lavish Friday-night rehearsal dinner. Aguilera and Bratman requested that guest not bring gifts but were asked to make donations to Hurricane Katrina and Rita relief efforts. Jordan presented diamond wedding bands made by Stephen Webster that were custom designed to compliment the engagement ring.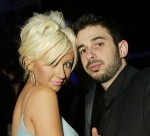 Christina Aguilera and her new husband Jordan Bratman started their marriage in the lap of luxury by jetting off to the Indonesian island of Bali for their honeymoon.