Learn the proper cleaning process for each jewelry item since different gemstones and metals have different characteristics.
Metal and stones used in costume jewelry are generally not as durable as most fine jewelry.
When in question about a particular type of gemstone or metal type, a quick online search for cleaning that item online will probably provide the specific guidance you need.
A home ultrasonic cleaner can be used for diamond, ruby, sapphire, citrine, blue topaz, peridot, aquamarine, garnet, and amethyst.
A home ultrasonic cleaner or harsh abrasive cleaner should not be used for pearl, opal, emerald, tourmaline, Tanzanite, turquoise, amber coral or onyx.
Metal watch bands can be cleaned with an ultrasonic cleaner but be careful not to put the watch mechanism under water even if says it is water resistant.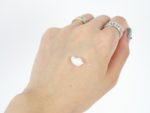 Avoid touching cleaned diamonds with your fingers as the oil from your skin can cloud the stones. This is especially true if you have hand cream or moisturizer on your hands. Oil and hair products can also coat diamond earrings so they should be cleaned regularly to stay bright and sparkly.
Beware that some do-it-yourself remedies like witch hazel, bleach, vinegar, and baking soda can damage your jewelry
Red, white or blue jewelry (rubies, diamonds, sapphires) with gold or platinum metals are relatively durable for cleaning.
The best homemade jewelry cleaning solution is a mixture of a few drops of Dawn dish detergent in warm water. Soap the jewelry item in the solution for a few minutes and then brush with a soft tooth brush, rinse in clean warm water, then dry with paper towel or lint-free clean cloth.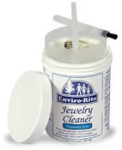 You can also buy one of the brand-name liquid jewelry cleaners online or in most department stores, which usually include a container of cleaner, a basket to soak the ring in and a small brush to clean hard to get at areas. Read the label and follow its instructions.
Frequent cleaning with a soapy solution and soft brush will ensure oils, creams, food, and other dirt does not build up and harden. Keep the container of cleaner near your bathroom sink to remind you about cleaning. Remember to dry thoroughly with a paper towel or lint-free cloth. Regular cleaning will keep your jewelry bright and shining.