WEBSITE HIGHLIGHTS: LAURA NEWTON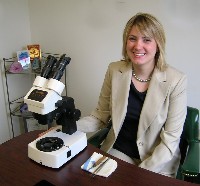 We are happy to welcome Laura as the newest member of our Diamond Source of Virginia staff. Laura is a GIA Graduate Gemologist who inspects the diamonds we get in every day for our clients. Laura completed the GIA's Graduate Diamonds Diploma Program, the GIA's Graduate Colored Stones Diploma Program, and then earned the GIA's prestigious Graduate Gemologist designation. She is also a graduate of the School of Business program at the GIA in Carlsbad, California.
Laura is originally from Southern Pines, North Carolina and is a valuable addition to our Richmond, Virginia office. She works with clients every day to answer their diamond questions and is responsible for preparing the insurance appraisals we provide clients when we set diamonds in mountings.
DIAMOND SHOPPER MISTAKES: DO NOT SETTLE FOR BEST-IN-STORE
Why should you settle for "best-in-store," when you can have the "best-in-country?" The age-old sales tactic in the jewelry store is to show you three diamonds and have you pick the best of the three. Just because a diamond looks better than several others does not mean it is a great diamond. Average cut looks better than poor cut but you deserve better than average.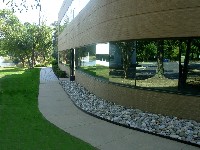 One of the key aspects of the service provided by Diamond Source of Virginia is that we do a personalized search for every client to ensure they are getting the best diamond in the country meeting their requirements. We look for the biggest size, best cut and best value in a diamond based on the shopping priorities of our clients. Since we do not own inventory, we avoid the bias of trying to sell what we own. Instead, we can focus on finding the very best diamond for every client regardless of what cutter or wholesaler owns the diamond.
The odds that a particular jewelry store happens to have the best diamond value in the country are very slim. We know that no one, two or even ten wholesalers have the best diamonds meeting our client's particular requirements so we search the inventories of hundreds of cutters and wholesalers.
Use the jewelry stores to shop and help define your shopping requirements and priorities. Then come to us to find the best of the best and spend less.
MAGNIFICENT JEWELS AT CHRISTIES
Some of the most beautiful jewels in the world are sold at Christie's New York and April 11 will be no exception. Advertised as the Magnificent Jewels sale, this event will include the collection owned by Joan Kroc, the wife of McDonald's founder, Ray Kroc.
Here are some of the fantastic gems and jewelry that will be auctioned in April.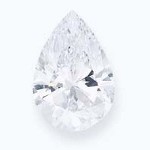 Probably the most valuable item will be a magnificent loose pear-shaped diamond weighing 50.67 carats and graded D color and VVS2 clarity. Estimated value is $2.25 to $2.50 million.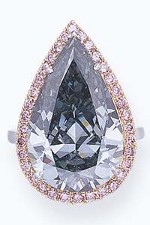 A truly unique colored diamond ring features a 14.43-carat pear-shaped fancy dark blue-gray diamond surrounded by pave set pink diamonds set in platinum and 18 karat rose gold mounting. Estimated value is $1.2 to $1.5 million.
One of the Joan Kroc items is a colored diamond necklace by Harry Winston that features a 42.13-carat pear shaped fancy intense yellow color diamond hanging from two-row round diamond necklace. Estimated value is $1.0 to $1.5 million.
Pear shaped diamonds are the showcased shape and the sale includes a 12.02 carat pear shaped diamond with D color and Internally Flawless clarity set in a pave set diamond split shank platinum ring. Estimated value is $600,000 to $800,000.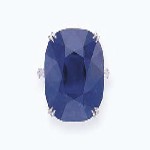 An impressive cushion cut blue sapphire weighing 80.86 carats is set in a platinum mounting with bullet cut diamond side stones. Estimated value is $350,000 to $500,000.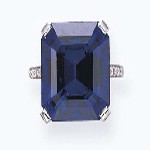 It is hard to find sapphires that have not been heat-treated but the sale includes a 24.21 carat rectangular cut blue sapphire in a platinum mounting with pave set diamonds on the shank and prongs. Estimated value is $350,000 to $500,000.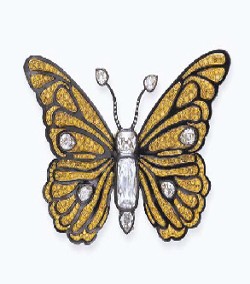 A colored diamond and steel butterfly brooch, designed by Cartier, is sure to catch attention at the auction. The wings have pave set fancy yellow diamonds enhanced with pear shaped white diamonds and oxidized steal veining. The body is set with a carat pear shaped diamond, two cushion-cut diamonds (2.68 and 6.33 carats) and pear shaped diamonds on the antennae. Estimated value is $400,000 to $600,000.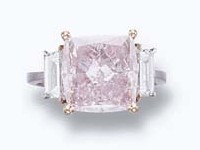 A beautiful 5.25-carat modified square cut fancy pink diamond is set in a platinum and rose gold mounting flanked by trapeze cut white diamonds. The center diamond is a natural fancy pink color with VVS2 clarity. Estimated value is $400,000 to $600,000.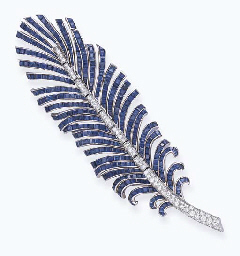 One of the more unique jewelry shapes at the sale will be a sapphire and diamond feather brooch designed by Flato. The flexible, articulated feather has calibre-cut sapphires extending from the stem with white pave set diamonds. Estimated value is $30,000 to $40,000.
Discover more of the world's most beautiful items at www.christies.com
CRATER OF DIAMONDS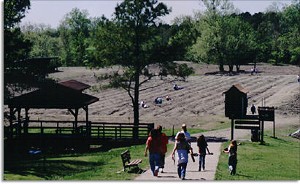 Located just 2.5 miles south-southeast of Murfreesboro, Arkansas, diamonds were first discovered in 1906 by a local farmer/prospector. The lamproite pipe was mined from 1910 through 1929 and was a private tourist attraction from the 1950s to 1972, when it was sold to the state and converted into Crater of Diamonds State Park.
Over 100,000 diamonds have been recovered from the 35 acre plowed field. This site holds the record for the two largest diamonds found in North America; The Uncle Sam (40.23 carats rough) and the Star of Murfreesboro (34.25 carats rough). Since it became a state park in 1972, tourists and local diggers have recovered over 20,000 stones.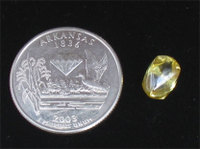 The Arkansas Parks and Tourism Department announced that a 4.21 carat yellow diamond was discovered at Crater of Diamonds State Park in March.
The lucky "miner" was Martin Culver, an Oklahoma state trooper who was making his first visit to the park. Culver and his family were visiting the park after watching a History Channel feature on the park. His is going to name the diamond the Okie Dokie Diamond after his home state, Oklahoma.
BE AWARE WHEN TRAVELING WITH JEWELRY
If you have travel plans in your future, think carefully if you really need to take all your expensive jewelry. The risk of theft, loss and damage increases as soon as you start your trip because you are in new surroundings, doing new activities and often in tourist areas that are the target of pickpockets, thieves and con artists.
If you are traveling out of the country, check to be sure your jewelry insurance covers your property when you are traveling outside the United States. Because the risk of theft is so much higher in foreign countries, some insurance companies only provide domestic coverage.
It is never wise to put jewelry items in luggage, especially with security personnel going through your belongings. The percentage of bags lost by airlines continues to increase and their liability for your lost luggage is very limited. Hotel rooms are open to cleaning personnel several times a day and safes in hotel rooms are not particularly secure.
If you do not put your jewelry in your luggage or leave it in your hotel room, that means you are carrying it with you but that can be a problem at the security checks at airports or when carrying something all day as you travel or are sightseeing.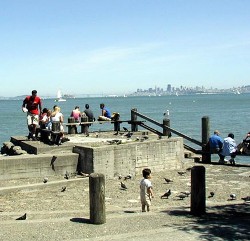 This situation occurred several days ago when a man found a Louis Vuitton bag on a park bench while he was hiking in a Sausalito, just north of the Golden Gate Bridge. Inside the bag was a 12-carat diamond ring, pearl and emerald jewelry, a Cartier watch and roughly $500 in cash. The contents were worth about $1 million.
While many would have been tempted to head for a pawnshop and cash in their discovery, John Suhrhoff returned the bag to Sausalito police who found the owners, the Ghannadian family of Toronto, who were in Northern California for a daughter's wedding. The Ghannadian family had an extra day before their flight back to Toronto so had decided to visit Sausalito, a popular tourist are with waterfront views of San Francisco. They had left the bag on a park bench near a tour bus depot and did not realize it until they returned to their San Francisco hotel.
Not all lost bag stories have this type of happy conclusion, so think twice before loading your purse with all your jewels and heading on vacation.
INCLUSIONS & BLEMISHES: FEATHERS ON THE GIRDLE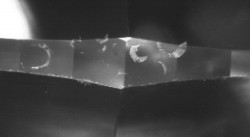 Feathers are a common type of inclusion to find on the girdle and one of the fascinating types of feathers are those with the crescent or "fish hook" shape. We also see this type of feather on the pavilion of princess cut diamonds. These feathers are typically only visible under magnification and are seldom of a size or position that creates a durability concern. This unique shaped inclusion is often seen in clusters as illustrated above.
ST. PATRICKS DAY DIAMOND SHAPE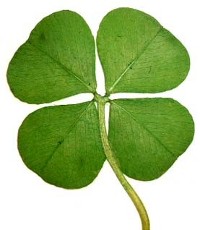 The shamrock, a three-leafed clover, has long been symbolic of Irish culture. According to legend, the shamrock was called the "seamroy" by Celts, was a sacred plant to the Druids of ancient Ireland symbolizing the rebirth of Spring. Legend also has it that St. Patrick used the shamrock in the 5th century to illustrate the doctrine of the Holy Trinity as he promoted Christianity in Ireland.
In the 19th century the shamrock became a symbol of rebellion with the risk of death by hanging for anyone found wearing it. This let to the now popular phrase "the wearin' of the green." With its deep Irish history, the shamrock is now the most recognized symbol of the Irish. This is especially true on St. Patrick's Day, when everyone is Irish for a day.
While the classic shamrock has three leaves, occasionally a fourth leaf will appear, making a "four-leaf clover," believed by many to bring good luck to the person who discovers it.

The four leafed flower shape is also very special when formed from a diamond. The Lily cut has 65 facets compared to the 43 facets of the princess cut and is cut exclusively by Lili Diamonds located in the center of the Israeli Diamond Exchange in Ramat-Gan, Israel. They still hold the worldwide patent for the Lily Cut granted in 1996. This diamond features 4 lobes which resemble a shamrock, clover, or flower and has beautiful sparkle, brilliant and a truly unique diamond shape.
GEMSTONES: KUNZITE

Kunzite is the pink variety of spodumene and is one of two gemstone varieties; the other being the green or yellowish-green hiddenite. Kunzite is one of the more recently classified gemstones first recognized by George Frederick Kunz in 1902 when it had just been discovered in San Diego County in California.
Kunzite was first found in Connecticut but the first commercially significant deposit was discovered in 1902 in the Pala region of California, where morganite beryl was also first discovered. Kunzite is often found with morganite and pink tourmaline, the other popular pink gemstones. Today most kunzite mining occurs in Brazil, Afghanistan, and Madagascar.
This gemstone is valued for its pink hues and transparent clarity. Due to minute traces of manganese, Kunzite often displays a fine lilac color. Most kunzites, however, have a light color. Strongly colored kunzite is rare and thus correspondingly valuable.
One of the most famous facetted kunzite specimens from Brazil weighs 800 carats and is on display at the Smithsonian Institute in Washington, D.C. This stone cut in the shape of a heart is shows no inclusions. Also on display at the Smithsonian is an intensely purple kunzite from Brazil weighing 336 carats, as well as one from California weighing 177 carats.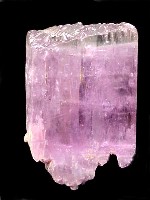 Depending on the angle from which you look at a kunzite, it can appear violet, pink or even colorless. This phenomenon is known as pleochroism, which means multicoloredness. However, the color can fade in direct sunlight or heat. For that reason, do not expose jewelry with kunzite to direct sunlight (sunbathing or the beach) or leave it in a hot car left out in the sun. Because of this potential for color fading, any retailer selling this gemstone should disclose this characteristic of kunzite.
While kunzite has a relatively high hardness (between 6 and 7 on the Mohs Scale), the gemstone is quite fragile because of its perfect cleavage and needs to be protected from impact. It will easily chip and break if struck hard. The perfect cleavage and splintery fracture of kunzite makes it one of the most difficult gems to cut, but when done right it produces exceptional brilliance. Never clean kunzite in an ultrasonic cleaner because it could ruin the gemstone.