WEBSITE HIGHLIGHTS: IDEAL CUT BRANDS
Learn more about the many brands of ideal cut round diamonds with Hearts & Arrows patterns.
Click here for more information on branded diamonds
DIAMOND SHOPPER MISTAKES: DO NOT FORGET INSURANCE

Do not forget to insure you diamond ring. Diamond Source of Virginia provides a free insurance appraisal for diamonds that we set in a mounting but we are still amazed at how many clients do not insure their valuable diamond jewelry.
For an engagement ring, the man sometimes starts wondering if he should insure the ring or if his girlfriend should insure since she is wearing it. Often a couple plans to purchase a home or is planning a move shortly after the proposal so the man's decides to wait until they get their new homeowners insurance before insuring the ring, only to forget because of all the commotion involved with the move.
Other diamond jewelry owners simply think they can save money by not insuring the ring or by insuring it for a lower value than they paid for it. This can be an expensive gamble if the ring is lost or stolen several years later when the replacement value is 40% higher. Saving a few hundred dollars in insurance premiums now costs tens of thousands of dollars.
Since we do many insurance replacements, we hear all the horror stories of how diamond jewelry gets lost, stolen or damaged. Sometimes bad things happen to jewelry so we strongly recommend protecting your valuable investments by insuring them with a good insurance company and an accurate insurance appraisal.
GIA CREDIBILITY TARNISHED

The Gemological Institute of America, which grades diamonds for independent dealers and big retailers, fired four employees and shuffled top management after an internal investigation of its policies, the Wall Street Journal said.
The institute's internal probe started after a jewelry dealer who was also the former head of retail operations at luxury jeweler Harry Winston claimed that the institute and two diamond dealers conspired to inflate the grade of two diamonds that he sold to members of the Saudi royal family.
The diamonds, which were sold for $15 million, were taken to an independent appraiser and found to have a lower grade that made them worth much less, the paper said.
The dealer alleged that lab workers took bribes to inflate the quality of diamonds in grading reports, according to the news report, which cited people familiar with the situation.
Check our future newsletters for updates on this unfolding GIA story
DOES PLATINUM SCRATCH?
The platinum industry has done a great job at making it on of the most popular choice for fine jewelry. Jewelry store push platinum jewelry in part because it is three times more expensive than gold and they make three times the profit on every platinum item they sell. However, this marketing fever has let to some exaggerated claims of platinum's strength and resistance to scratching.
Platinum gains its strength and hardness when alloyed with other metals, usually other members of the platinum group metals (iridium, osmium, palladium, platinum, rhodium, and ruthenium). The strength and hardness of platinum vary with the type of alloy used and the percentage of platinum in the metal. Some types of platinum are malleable which is great for setting prongs on delicate gemstones but might scratch and dent easily. Other types of platinum are harder and more scratch resistance but can be hard to bend and thus very risky to use for setting gemstones.
Like all precious metals, platinum will scratch but is different in that scratches simply "plow" the metal instead of removing it. Whereas gold loses metal when it scratches, polished or simply worn, platinum retains is volume and is very long lasting. If you wear platinum jewelry and in particular rings, they will scratch. The dings and dents are going to happen. Just remember you can have those wear marks polished out many times without and enjoy the beauty of this lustrous white metal for many years.
DE BEERS RETAIL DIAMOND VENTURE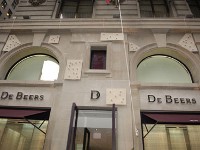 De Beers has big plans to become a major player in the retail diamond jewelry business in the United States and internationally. In 2001, De Beers launched a joint venture with LVMH (Louis Vuitton Moet Hennessy), a French luxury goods company, to establish De Beers as a retail brand. The partners are investing over $500 million in the venture (De Beers LV) which has plans to open up to 150 branded De Beers stores in the next ten years.
Many shoppers in the United States probably assumed De Beers was already a diamond retailer because of their advertising campaigns featuring the slogan: "A diamond is forever" that was launched in 1947. However, that advertising was provided by De Beers to stimulate all diamond retail sales knowing that the demand for finished diamonds ultimately created more demand for their unpolished diamonds. De Beers spends $180 million a year to market and advertise diamonds and continues to grow the worldwide diamond demand.
De Beers LV opened its first jewelry store in London in 2002. They now have two stores in London, three in Tokyo, two in Osaka, one in New York City, one in Beverly Hills and one in Paris. Revenues for 2005 reached $30 million for De Beers LV and represented a 61% increase over 2004.
In 2006, De Beers LV plans to open retail stores in Dubai and other locations.
INCLUSIONS & BLEMISHES: CLOUD OF TINY CRYSTALS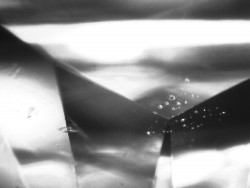 A cloud consists of many tightly grouped tiny inclusions that can include pinpoints, needles or crystals. The tiny inclusions might be too small to distinguish individually at 10X, but together they look like wispy white or gray patches.
The photo at the right shows a cloud comprised of tiny crystals. Viewed under the high magnification in the photo, the individual crystals are visible but they are not visible to the eye and appear as a wisp of white at 10X magnification.
Clouds are one of our favorite inclusions because they seldom are visible to the eye in SI clarity or above and do not impact the durability of the diamond.
INDIA – FASTEST GROWING DIAMOND JEWELRY MARKET IN THE WORLD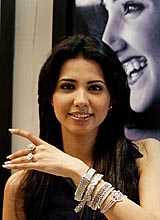 India is becoming a powerhouse in the world economy. That prosperity has resulted in a demand for diamonds in the Indian market that has never been stronger. The Indian market has a collective growth of 50% in 2003 and 2004. The projection for Indian diamond purchases is 20% in 2005. This makes it the fastest growing diamond jewelry market in the world for the third year in a row. Diamond jewelry has been making inroads into what has traditionally been a gold and colored gemstone market, thanks to the efforts of the Diamond Trading Company (DTC).
The DTC by launching its own brands Arisia, Nakshatra, Asmi and Sangini, has been targeting separate consumer groups. This is because the concept of a diamond for everyone has ensured that more and more consumers can aspire to buy, own and possess a diamond. Once the demands for brands have been stimulated, the DTC looks towards progressively handing over its brands to its sightholders to run. This has been DTC's marketing policy worldwide. DTC then looks at launching new programs and brands targeted at different consumer groups.
GEMSTONES: AMBER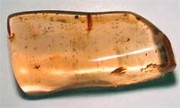 Thousands if not millions of people were introduced to amber in the movie "Jurassic Park". Amber was the tree sap fossilized over a million years or more of time. While amber can contain a mosquito and can contain ancient DNA the concept of it containing DNA from a dinosaur is remote but made a great story and movie.
Small insects, plants, leaves, feathers and other small objects became stuck in the sticky resin as it oozed from ancient pine trees. This material fossilized over time through a process of heat and pressure. Unlike most minerals and gemstones, the value of amber increases with the rarity and perfection of the entrapped objects. Because many of the objects preserved in amber do not live in today's world, this material has greatly increased the knowledge of the evolution of insects and plants.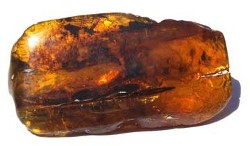 Copal, is also a tree resin but it has not fully fossilized to amber. It is usually only thousands of years old, instead of millions of years like amber which oxidizes and degrades when exposed to oxygen. It is preserved only under special conditions like dense, wet sediments, such as clay and sand that formed at the bottom of an ancient lagoon or a river delta. While hundreds of amber deposits occur around the world, most of them contain only trace amounts of the substance; only about twenty deposits in the world contain amounts of amber large enough to be mined. Most amber used in jewelry is from the region of the Baltic Sea or the Dominican Republic.
Much of the amber used in commercial jewelry is reconstituted (pieces glued together) which makes it harder and less prone to scratching. Reconstituted and processed amber usually does not have natural inclusions. Plastics and colored glasses are often used to simulate amber but amber's low specific gravity (amber can float on salt water) and inclusions help distinguish it from plastics and glasses fakes.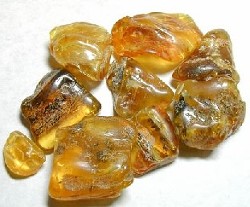 The color of amber can vary from dark brown to a clear lemon yellow. It can also be found in green, a shade of blue, red and black.
Amber is very soft, between 2 1/2-3 on the Mohs scale and scratches easily. This means that amber worn in jewelry must be treated with great care to prevent scratches, dents or breakage. Prevent amber from touching or rubbing metal or other jewelry. Amber is sensitive to heat so keep it away from the heat of ovens, burners or prolonged direct sunlight. Use clean, lukewarm water to clean but never use hot water or steam to clean.
Never put amber jewelry in an ultrasonic or steam cleaner, which can break the gem. Prevent amber from coming in contact with strong solutions, soaps, detergents, commercial jewelry cleaning solutions, perfume, or hairspray since these can dull the finish and result in a whitish coating.