DIAMOND SOURCE OF VIRGINIA NEWS: BIZLINC
To keep our prices low, we minimize all aspects of overhead, especially expensive advertising. There is no way you can have operating margins less than 10% if your advertising budget is 5% to 10% of sales. As a result, you do not see Diamond Source of Virginia ads on billboards, newspapers, television or other traditional advertising venues. Someone has to pay for a jewelry store's expensive advertising but we think our clients would rather get bigger diamonds for their money rather than a bigger billboard. We rely on our web site and, more importantly, our referrals to help new clients find us locally and nationwide.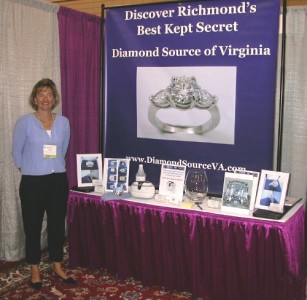 However, it does get a little frustrating hearing "I wish we had known about you two months ago when we bought a diamond" when we visit with folks in the Richmond area. This year we initiated some marketing efforts focused on our membership in the Greater Richmond Chamber of Commerce and the Better Business Bureau. We participated in our first trade show event, the Chamber of Commerce's BizLinc trade show, on September 15th at the Richmond Convention Center.
It was a great opportunity to visit with hundreds of exhibiters and attendees from Central Virginia, many of whom were in the process of shopping for diamonds so were happy to find us. Thanks to our booth, many more shoppers have discovered Richmond's Best Kept Secret: Diamond Source of Virginia.
WEBSITE HIGHLIGHTS: NEWSLETTER ARCHIVE
If you are a new subscriber of the Diamond Source of Virginia Newsletter or simply want to find an article in a past newsletter, a handy resource is the Newsletter Archive. This is an online collection of Newsletters since the beginning of 2005.
The major topics for each newsletter are listed with a link to that particular section on the web site.
Check out the Newsletter Archive: Click Here
DIAMOND SHOPPER MISTAKES: GET THE CERTIFICATION

Almost every week we hear our clients tell stories of shopping in a jewelry store where a diamond is claimed to be GIA certified but the jeweler will not show the shopper even a copy of the certification. They say the GIA certification will be provided after the diamond is purchased. If this happens to you, find the nearest exit.
Here are the facts. If a jeweler has a diamond and says it is GIA certified, then they will have at least a copy of the certification to share with you. If they don't want you to see the certification, one or more of the following is probably the case:
The diamond does not really have a GIA certification or maybe any type of certification. The jeweler is simply hoping you do not remember his claim. Maybe they have their own documentation done by someone who took a GIA class. Sometimes they even say they will get the diamond certified after you purchase.
There is something on the certification that they do not want you to see until after you purchase. Often these are poor cut parameters such as depth, table, polish or symmetry. Many times it is medium or stronger fluorescence that greatly reduced the value of the diamond. Maybe it is something as simple as a very old certification date that implies the diamond has been worn for many years and perhaps is not in the same condition it was when certified. In the worst case, the certification might indicate the diamond was laser drilled.
Jewelers hate it when a shopper comes in their store armed with diamond information they printed from online sources. That means they no longer are considered the experts and their claims might be challenged. Typically jewelers only want to stress carat weight, color and clarity. If their diamond has negative factors they don't want to explain the items on the certification, especially if they fear you might be knowledgeable. Instead they "hide" the certification.
Remember, if a jeweler has a diamond and says it is certified, they have at least a copy of the certification. It is common practice to only have a paper copy of the certification travel with the diamond since wholesalers and cutters like to keep the original certification until the diamond is sold. That ensures the person buying the diamond gets a nice clean certification that has not been written on, torn, had coffee spilled on it or lost. But every jeweler has a copy machine so they can give you a copy of the certification for any certified diamond they have. Why would you even consider purchasing a diamond without having your own copy of the certification of the diamond to study and compare?
Discover other jewelers tricks and traps: Click Here
$60 BILLION IN DIAMONDS PRODUCED IN RUSSIA IN 50 YEARS
In the 50 years since diamond production started in Russia, $60 billion worth of stones have been produced, the finance minister said month.
Speaking at a ceremony dedicated to the 50th anniversary of the Russian mining industry, Alexei Kudrin said the diamonds had played a great role in re-equipping Russian industry, developing the country and strengthening its defenses.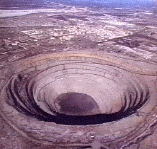 "Today, the activities and interests of [diamond monopolist] Alrosa spread far beyond the Sakha Republic [Russia's largest diamond-mining region in Eastern Siberia]," he said. "Alrosa is gaining confidence on the world market. It has turned into a modern international company and is ready for further diversification."
"The company should not only continue to expand geographically but also use its potential in related mining industries and energy projects," the minister added. "Alrosa should also tackle state problems."
Alrosa is one of the world's largest diamond producers, providing about 20% of its diamonds.
Learn more about diamond mining: Click Here
PICKING UP DIAMONDS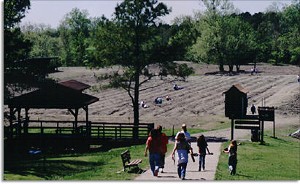 It might be a hobby, but Steve Lee really knows how to spot a diamond in the rough. Lee's most recent find — a 1.22 carat, gem-quality diamond — turned up during a recent visit to the Crater of Diamonds State Park in Murfreesboro, Arkansas.
He said he hadn't been able to hunt for diamonds in more than two years because a disability forced him to use crutches. Lee returned this year after friends persuaded him to take up the hobby again.
Crater of Diamonds Superintendent Tom Stolarz said the size of the find isn't necessarily unusual for the park, but the quality of the diamond is exceptional. The state park is the only diamond mine in North America in which the public can dig.
About 25 diamonds are found each year that weigh more than a carat, Stolarz said.
In previous years, Lee has found a 6-carat diamond, a 4.7-carat and a few 2-carat diamonds at the park.
The diamond he found in August could be worth more than $1,000, but he's got other plans for it: "This one's for Mom," he said.
Learn more about Crater of Diamonds State Park: Click Here
INCLUSIONS & BLEMISHES: BEARDED GRIDLE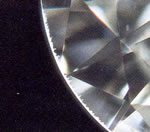 A bearded girdle consists of minute feathers that extend from the girdle surface into the stone. A lightly bearded girdle has a few very fine feathers scattered around the diamond's perimeter. A heavily bearded girdle has so many feathers that they create a fuzzy gray fringe all the way around the stone.
A bearded girdle is typically not plotted on a certification until the bearding is considered to be a feather. In other words, the tiny feathers are extremely small and usually hard to see under 10x magnification.
Don't confuse these tiny white fractures with the natural frosty color of a girdle that is not faceted. Girdles with polished facets are transparent while diamonds with a finely turned girdle will have a smooth and waxy luster, often called a frosted girdle.
Bearding is caused by careless bruting. Bruting is essentially the first step in cutting a diamond (after it has been sawn, if so) and it essentially gives the round shape to a diamond.
Learn more about inclusions and blemishes: Click Here
WORLDS BIGGEST TANZANITE GEM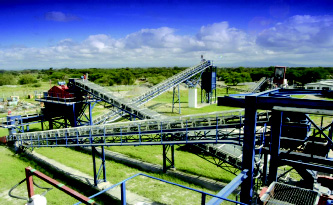 The world's biggest piece of tanzanite, a blue-violet gem rarer than diamond, was unearthed near Tanzania's Mount Kilimanjaro this summer. Shares in TanzaniteOne Ltd., which found the rock, rose the most in 10 months.
The stone weighs a record 16,839 carats and is the size of a brick, company spokeswoman Renata Da Silva said by phone today from Johannesburg. TanzaniteOne hasn't valued the rock yet and doesn't know how many polished carats will be made from it, she said. The market value of polished tanzanite varies between $200 and $2,000 per carat depending on size and quality, she added.
The 3 kilogram (6.6 pound) tanzanite stone was found 270 meters underground in the Bravo shaft, the southernmost shaft of TanzaniteOne's license area, the company said. Before today's announcement, the largest stone found weighed 3.2 kilograms, but it broke up as it was being removed from the ground.
The latest find, named "The Mawenzi," after the second highest of Kilimanjaro's three peaks, will be put on display before being cut up, the company said.
"We were reluctant to name it Uhuru, after Kilimanjaro's highest peak, on the off-chance that a larger piece is ever found," TanzaniteOne's President Ian Harebottle said in a statement.
The company's Merelani mine is the largest tanzanite mine in the world and the only one that's commercially viable. Known reserves of the gem are expected to run out in a decade, Da Silva said.
Tanzanite prices may rise more than diamonds in coming years, according to Tomlinson. Prices for rough, or uncut, diamonds are expected to increase 30 percent in the next five years, he said. Tanzanite jumped 25 percent last year.
GEMSTONES: TANZANITE
Tanzanite was enthusiastically celebrated after its discovery in 1967 as "Gemstone of the 20th Century." The only known source of Tanzanite is a five square mile hilltop at Merelani, ten miles south of the Kilimanjaro International Airport in Tanzania.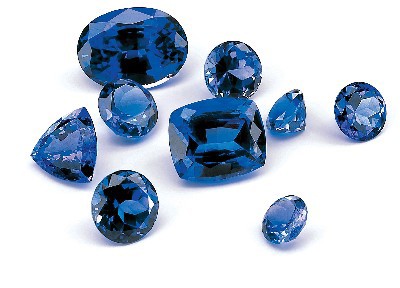 While the correct name for the gemstone is "blue Zoisite," a famous New York jewelry company suggested it should be named after the place in occurs on the earth because the words "blue Zoisite" sounded unfortunately too much like the word "suicide". The name Tanzanite was used and has stuck helping this beautiful gemstone achieve success in the marketplace.

The deep blue colors of Tanzanite range from ultramarine to a light purplish blue. The most coveted color is a blue which shows a purplish hue. The source of its mesmerizing color is that tanzanite is trichroic: that is, it shows different colors when viewed in different directions. One direction is blue, another purple, and another bronze, adding subtle depths to the color.
Most rough crystals show a large proportion of the brownish-yellow, but the cutter may cure this by carefully heating the stone in an oven to about 500°C. This heating process requires careful attention because it is essential to determine the moment when the color turns blue. Heating is a treatment which is generally accepted in the trade and should be expected. Due to the heating, the most desirable rough stones are those that are relatively free of inclusions so that the heating process does not lead to fissures in the stone.
Tanzanite is a blue variety of the gemstone, Zoisite (hydrated calcium aluminum silicate) which has hardness 6.5 to 7 on the Mohr's scale. It is not very scratch resistant so must be worn with care, especially in rings.
Tanzanites should be cleaned with warm, soapy water and a soft bristle brush. It should never be cleaned by ultrasonic method and because of its chemical composition should never come into contact with acids. Never resize or repair a ring set with tanzanite because the stone could shatter in the heat of a torch.
New mining techniques and the liberalization of the Tanzanian economy has helped to boost production in the past few years to make tanzanite more available than ever before in the history of the gemstone.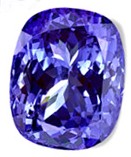 Among the important gems discovered in the last 90 years, only Tanzanite has been added to the official birthstone list. It was adopted as a December birthstone by the American Gem Trade Association and shares that month with turquoise and zircon.
Tanzanites have become very popular and increasingly valuable for two obvious reasons: First of all is the spectacular color? Secondly, the stone is found on only one special location in the entire world. This is what makes it is especially valuable. The desire to own something unique and rare has always been a decisive criterion for assessing the value of special gemstones.