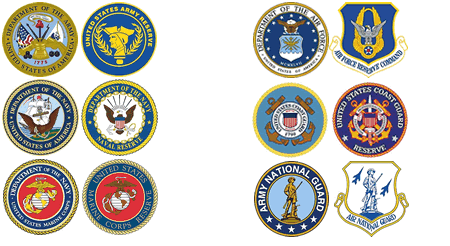 We are proud to say that over 20% of our clients are active military. Due to our location in central Virginia, we are within driving distance of Norfolk Naval Base, Langley, Oceana NAS, Pentagon, Quantico, Fort A.P. Hill and Fort Lee just to name a few. Virginia has about 10% of the employment in the Department of Defense.
With years of military clients referring their friends to us, we are able to assist our military clients with their diamond purchases wherever they are in the world. Pilots on carriers tell their buddies about us. Clients in Iraq and Afghanistan tell their comrades who are thinking of getting engaged and we get an email. National Guard clients getting processed for going overseas, call us to get a diamond ring by the end of the week so they can propose before they leave. Clients based overseas, stop by our office in Richmond when home on leave to pick up that special anniversary gift.
Here are some of the advantages of working with Diamond Source of Virginia when you are in the military.
Our business is structured to provide great customer service regardless where our clients are located. We contact most of our business using email and toll free telephone so we are set up to provide service to those not able to drive to our location. With email access all over the world, our military clients can communicate with us regardless of the time differences and miles separating us.
We ship most of our clients their diamond using FedEx so can deliver to any location in the country. We insure the shipments using a third party insurance company to protect our clients.
If your military installation does not permit FedEx deliveries, we recommend having the package held at the closest FedEx office where you can pick it up at your convenience. This is the safest delivery mode since you must have the tracking number and photo ID to pick up the package.
If you are located outside the country and want the ring waiting for you when you get home, we can ship to a friend or relative so it is ready when you are.
If you are stationed away and want to surprise her with an anniversary gift, we can ship it directly to her. With a beautiful gift box and a special note with your words, she will appreciate the effort you have made and for remembering that special event.
Our low prices and diamond expertise ensure you will get the biggest diamond and best quality your budget will accommodate. We pride ourselves at providing gorgeous diamonds and diamond rings that are much nicer than any you will find at a local jewelry store or pawn shop.
For purchases to clients outside of Virginia, we do not have to charge sales tax and there is always free shipping.
Military Testimonials
The following testimonials and feedback comments are from some of our military clients.
Christopher M – Norfolk, VA
I'm a Lieutenant in the US Navy stationed in Norfolk, VA. Your website was recommended by my brother. He knew someone in the Hampton Roads area who highly praised your level of personal service and extremely high quality of diamonds.
I wasn't deployed when I contacted you and was able to make a trip to Richmond to view two diamonds we had selected after discussing my desires. Before heading to Richmond, I had looked at several diamonds in the Hampton Roads area from local wholesalers. I knew I wanted something larger than what retail stores had on the shelf and didn't want to purchase something from an inexperienced retail salesperson. I was extremely impressed with the list from which I was able to choose when working with you and am very pleased with the one I selected.
I proposed to Sarah last August and we returned from our honeymoon last week. She is still thrilled with the size and sparkle on her hand. I am still excited knowing we got a quality diamond at a great price. I'm sure we'll contact you in a few years for an anniversary gift.
Sean M – Suffolk, VA
Hey Denny. I just want to thank you and your family for everything that you have done for me. I popped the question on Saturday and of course she said yes. She loves the ring so much!!! Her family and my family are both so excited. But she still can't get over how beautiful the ring is neither can I. Thanks again so much Denny and I will be contacting you down the road and recommending you to everybody else that I know that wants to buy a beautiful diamond.
Michelle & Andy L – Bethesda, MD
We called around and went to various jewelers but Denny and Anne were the friendliest and most helpful. They made the experience fun, NOT scary, and found us a beautiful diamond. We get compliments all the time on our ring! We have recommended them to many of our friends and will continue to do so!