Diamond Stud Earrings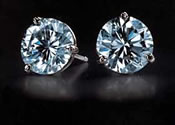 Diamond stud earrings are some of the most popular and most beautiful of earring choices. The sparkle and brightness on the lobes of the ears are elegant enough for a dress occasion but are casual enough to wear every day.
Round Diamond Stud Earrings
Round diamonds are the most popular shape of stud earrings and come in many size, quality and price ranges. We usually recommend at least I color and SI2 clarity for round stud earrings. These are white diamonds that are fairly clean to the eye from the top. Since the diamonds in stud earrings are not visible from the side, it is not necessary to have completely eye clean as you would for a ring. Clarity also tends not to be as big an issue since the person wearing the earrings can not really see them except in a mirror, unlike a diamond ring that can be closely examined any time it is worn.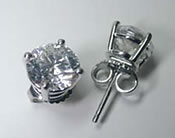 Most jewelry stores sell I1 clarity stud earrings but we find that the inclusions in these low clarity diamonds often reduce the brightness and sparkle of the diamonds. If keeping the budget low is more important than the beauty of the diamond, some I1 clarity stones might be acceptable but SI2 clarity stud earrings are the most popular choice by our clients.
Some clients like to buy ring quality diamonds for their stud earrings so that they can use the diamond for side stones or other jewelry items in the future if they choose not to continue use them for earrings. We have had some clients who have children say they plan to let their boys use the diamonds for engagement rings when they get older. In these cases, we recommend at least I color and SI1 clarity for round diamond stud earrings, just as we would for round engagement diamonds.
Obviously higher colors (F, G or H) and high clarity (VS1 or VS2) can be use but these greatly increase the price without a noticeable difference in the ear.
Regardless of the color and clarity of the round diamonds, we recommend getting very well cut diamonds for stud earrings in order to get the most brilliance and sparkle. A depth percentage of 59% to 62.5% and table percentages of 53% to 59% should be your target.
For diamonds over 0.5 carats, most of our clients prefer to have round diamonds certified by the GIA, AGS or EGL. Smaller diamond stud earrings are usually not certified. Some times we are able to find diamond over 0.5 carats that do not have certifications but are great values, but certified diamonds tend to be easiest way to ensure the color, millimeter size and cut of the diamond are matched.
Fancy Shape Stud Earrings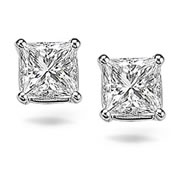 Princess cut - Square princess cut diamonds have become increasingly popular for stud earrings. We recommend at least H color and SI2 clarity for princess cut stud earrings.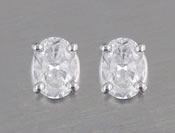 Ovals - Oval brilliant diamonds make big, sparkly stud earrings but it takes a little more work to find well match diamonds. We recommend at least H color and SI2 clarity for ovals and, just as we do for oval engagement rings, we seek ovals with minimal bow tie effects.
Cushions - Cushion diamonds make beautiful stud earrings but present a challenge in getting well matched stones. Cushion cut diamonds come in a wide range of length-to-width ratios, depth and table percentages. Even when these numbers do match, the way the corners and facet patterns are finished can impact the appearance.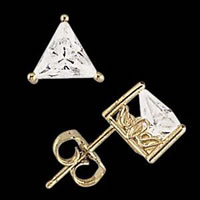 Triangular - Triangular diamonds have a unique shape for the shopper who wants something a little different for their stud earrings. Fortunately, the primary use of triangular diamonds is for match side stones in rings. This means that most triangular shaped diamonds are cut in matched pairs and which can also be used for matched stud earrings. We recommend at least H color and SI2 clarity for triangular stud earring diamonds.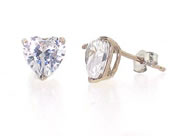 Heart Shaped - Heart shaped diamonds make bright stud earrings with a romantic touch. While it is sometimes hard to see the true heart shape in earring size diamonds, they make beautiful earrings for those who love hearts. We recommend at least H color and SI2 clarity for heart shaped stud earrings.
Stud Earring Styles
There are 2 categories of earrings: clips for non-pierced ears and posts or wires for pierced ears. Clip earrings use a hinged clip to hold the earring to the wearer's ear. Post earrings use a clutch or earring backing to hold the earring. Wires just slip through the ear and sometimes have a hook in back. Post earrings with an ornament or gem on the end are called ear studs. Almost all stud earrings styles are fall within the post category for pierced ears.
There are several basic styles of stud earrings.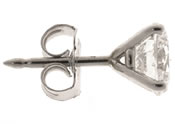 Basket mounting with four prongs is the most popular stud earring setting. The four prongs can be used for round, princess and most other fancy shaped diamonds. For smaller round diamonds, the four prongs can sometimes give the stud earrings an almost square appearance.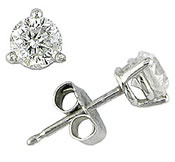 The basket mounting with three prongs has become very popular with nicer stud earrings in recent years because the three prongs tends to make round diamonds look rounder than those set with four prongs. The three prongs also are less noticeable because of the one less prong.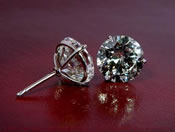 A recent new style of setting is the known as the martini setting. This style of setting tends to have a lighter framework and supposedly allows the stud earring diamonds to sit closer to the ear.
Stud Earring Metal
Most shoppers do not give much thought to the metal in earrings but there are comfort and security issues that need to be considered in addition to how they impact the appearance of the earrings.
Yellow Gold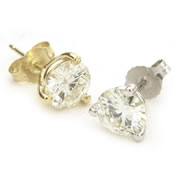 Most jewelry stores set their stud earrings in yellow gold because most of those diamonds are K color or lower in color. When you set very yellow diamonds in yellow gold stud earring mountings, they tend to look whiter than if they were set in white metal. If you set a white diamond with J or higher color in yellow gold prongs, the diamond takes on the color of the metal. Diamonds tend to reflect the colors around them and if the diamond is surrounded in yellow, that is the color you will see reflected.
White Gold
For white diamonds with J or high color, we recommend 14 karat white gold stud earring mountings. These are strong, light weight and quite affordable because there is not much metal in the setting. The white gold of the prongs and the rest of the mounting show off the white diamonds the best and when properly set, are almost invisible. For very white diamonds, white metal prongs are always recommended for stud earrings.
Platinum
We do not usually recommend platinum for stud earring mountings because it is more expensive than white gold and even more importantly, platinum is heavier. Stud earrings have a tendency to droop in the ear if the diamonds are heavier and certainly if the mountings are heavier. Platinum is usually preferred for jewelry items that have hard use and lots of wear, like a ring. However, stud earring settings do not have hard wear and lighter weight gold is usually the better option.
Stud Earring Backs
In order for stud earrings to look best in the ear, they need to be snug against the ear lobe. How to secure the earrings in the ear becomes one of the challenges for stud earrings because there are tradeoffs between comfort, easy of application and removal, and the security of keeping the diamonds in the ear.
Friction Backs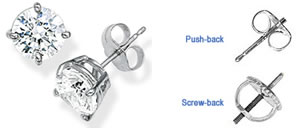 Friction backs are the most common and least expensive backs for stud earrings. A butterfly shaped metal disk (sometimes called a butterfly clutch or push backs) applies tension to the post going through the ear. The friction backs tend to be fairly easy to apply and remove but are sometimes too easy to remove. Many diamond stud earrings are lost when changing clothes or putting something over the head because the backs come off and the person wearing the earrings do not realize it.
Screw Backs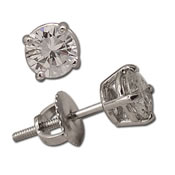 Screw backs act like the nuts used to secure bolts. They are turned onto the post going through the ear which is threaded like a screw. While the screw back is initially quite secure, a problem can arise when the back is not correctly applied. Since the person putting the back on the stud earring usually can not see what they are doing, it is common to have the back started crooked which can strip out the threads on the post. After this happens several times, the back seems to screw on but has really stripped the threats smooth and will not stay on.
Post and Clutch Backs

The post and clutch backs (also knows as La Pousse or spring clutch) are what we recommend for most diamond stud earrings. They have a smooth most that is thinner and more comfortable than the threaded screw back posts. The backs have a spring loaded mechanism that must be squeezed to apply or remove. Several notched grooves on the posts keep the clutch back from slipping off with out pressure being applied. The post and spring clutch mechanism is very similar to the clasps on military ribbons used for many years as a strong backing.