We have this beautiful 1.11-carat Princess Cut diamond ring in our safe for the low price of $5,400 (recently reduced from $5800). The diamond has nice H color with exceptional VVS2 clarity documented by a GIA Diamond Grading Report.
The diamond is set in a 14-karat white gold four prong solitaire style mounting.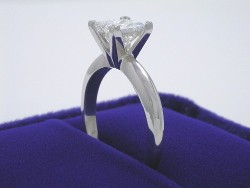 The specifications for the beautiful princess cut diamond are as follows:
Princess Cut, 1.11 carat, GIA certification, H color, VVS2 clarity, depth 72.6%, table 74%, Excellent polish, Good symmetry, No fluorescence, measuring 5.96 x 5.69 x 4.13 mm, ratio 1.04 (ref: GIA 14851730, dated 2/7/06). The price of the loose diamond alone is $5,300.
A copy of the GIA Diamond Grading Report is shown below.