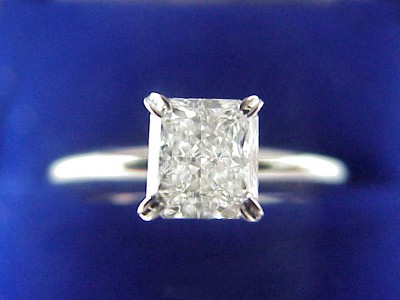 Diamond ring with 0.81 carat cut-cornered rectangular modified brilliant (radiant) cut diamond graded F color, VVS1 clarity, depth 69.0%, table 68% and measuring 5.39 x 4.91 x 3.39 mm, 1.10 ratio (ref: GIA 12707099, laser inscribed, dated 7/15/03) set in a 14-karat white-gold Solitaire mounting four-prong style head and knife-edge shank.
This radiant cut diamond has a length-to-width ratio of 1.10.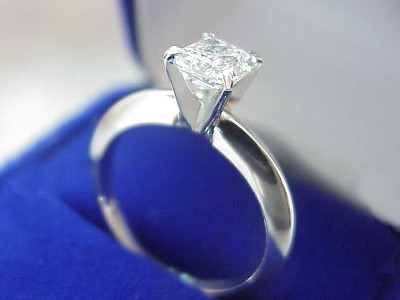 This radiant cut diamond ring was custom made for one of our clients but we would be happy to replicate this style of ring for you. Just tell us what type of radiant diamond you want (carat weight, ratio, color, and clarity) and we will do a diamond search of the wholesale diamond market and email you our recommendations for the best diamonds in the country that meet your requirements. You also need to tell us what type of metal (gold or platinum) you want so we can get you a price quote for the mounting. Depending on the style, mounting production time is 2 to 4 weeks.
You can contact us by phone at our toll free number (888) 477-8385, by leaving a message at the Questions box to the right of every page, or by filling out the request form at the Diamond Search box to the right of every page.